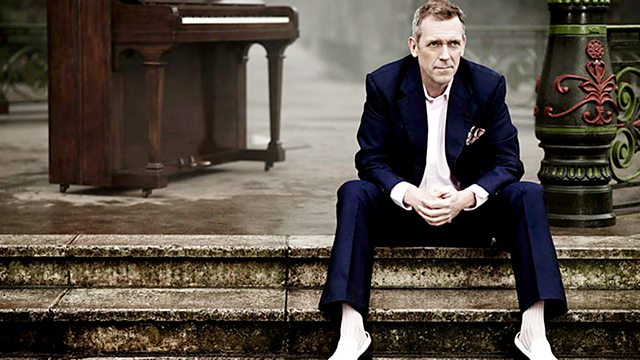 Country Music
Actor, comedian and musician Hugh Laurie examines the ways in which the blues has influenced all the types of popular music that we listen to today.
Each week he'll be playing a song with his acclaimed Copper Bottom Band and using that as a starting point from which to explore the permutations and permeations of the music that he loves.
This week, in the last of the series, Hugh plays and sings "Crazy Arms", and looks at the relationship between blues and country with music from the likes of Hank Williams and George Jones.
A performance film accompanying the series can be seen on the BBC's Red Button service.
***
Hugh Laurie is an English actor, comedian, writer, musician and director. He first became known as one half of the Fry and Laurie double act, along with his friend and comedy partner Stephen Fry, whom he joined in the cast of A Bit of Fry and Laurie, Blackadder and Jeeves and Wooster from 1985 to 1999.
From 2004 to 2012, he played Dr. Gregory House, the protagonist of House, for which he received two Golden Globe awards, two Screen Actors Guild awards, and six Emmy nominations. He has been listed in the 2011 Guinness Book of World Records as the highest paid actor ever in a television drama, earning £250,000 ($409,000) per episode in House, and for being the most watched leading man on television.
Acting aside, he is an accomplished pianist, leading the Copper Bottom Band in a smorgasbord of traditional jazz and blues which has so far resulted in two critically acclaimed albums and a series of sell-out world tours.
This is his first series for Radio 2.
Last on