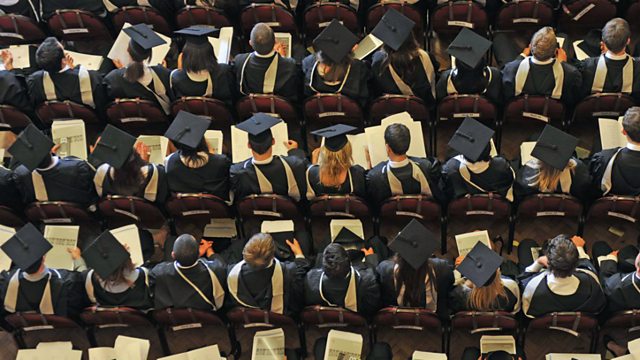 Too Many Law Students, Not Enough Jobs?
Joshua Rozenberg investigates claims that too many students are training to be lawyers in a time when jobs in the legal profession are scarce.
He speaks to law graduates who spent tens of thousands of pounds training to be lawyers, only to find the essential training contracts which would seal their career were in short supply.
Should the regulatory bodies and law schools be more open with prospective students about the odds of finding work? And could they be more selective when it comes to choosing who can undertake professional exams?
Also: So-called 'patent trolls' have burdened many American companies with outlandish infringement claims, which have them cost millions of dollars in legal settlements - could Europe's new Unified Patent Court open the doors to similar claims on this side of the Atlantic?
Contributors include:
Baroness Ruth Deech QC, chair of The Bar Standards Board
Professor Nigel Savage, chief executive of The University of Law, London
Samuel Clague, The Stephen James Partnership Legal
Christopher Thornham, partner at Taylor Wessing specialising in patents law
Alexander Ramsay, vice chairman of the preparation committee of the Unified Patent Court
Producer: Charlotte Pritchard
Series Producer: Richard Fenton-Smith
Editor: Richard Knight.
Last on