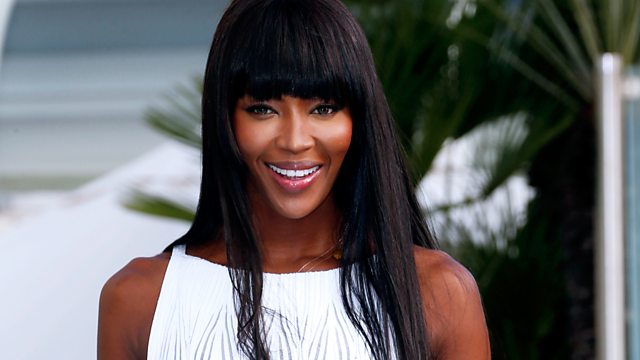 Naomi Campbell; Vlogging; Cartoon Mum
Listen in pop-out player
Supermodel Naomi Campbell on mentoring a new generation of hopefuls. YouTube star Ben Cook on the teenage obsession with vlogging - what you need to know. The world's most selfish mum through the cartoons of Denise Dorrance. Award-winning business woman Julie Kenny on her career running one of the UK's electronic security manufacturing companies. Abortion in Northern Ireland - why some cases have prompted renewed calls for changing existing laws.
Last on
Naomi Campbell
One of the five original supermodels of the 1980's, Naomi Campbell joins Jane in the Woman's Hour studio to talk about why she enjoys the role of mentor for young model hopefuls on her new series, The Face; her continued commitment to the campaign for a better diversity of models used in fashion, and how she feels about her treatment at the hands of the media.
Teen YouTube Stars
Why are teenagers so obsessed with YouTube stars like Jacksgap, Zoella and Charlieissocoollike?  From comedy sketches, beauty advice to answering life's unanswerable questions, 13-24 year olds are spending more and more time watching such 'Vloggers'.  Jane talks to the chronicler of Britain's YouTube generation, Ben Cook, a teenage 'super-fan' and her mum.  This is the ultimate parent's guide to the world of Vlogging.
Abortion in Northern Ireland
Draft abortion guidelines are causing a mood of fear among health professionals in Northern Ireland according to the Director of The Royal College of Midwives. The draft guidelines were published in March this year but the language used in them has been criticised for being threatening and excessively punitive, leaving some professionals less willing to carry out terminations. Recently the cases of two women have prompted renewed calls for changing existing laws. Their babies had conditions that were incomptible with life. The women requested an abortion but this was denied because foetal abnormality is not a reason for termination under Northern Ireland law. Jane talks to Breedagh Hughes, the director Royal College Midwives.
BBC Radio 5Live - Stephen Nolan
Sarah Ewart on the Stephen Nolan show
Julie Kenny
Julie Kenny CBE is Chair and Chief Executive of electronic security manufacturers Pyronix. Jane speaks to Julie about her business career, and being named as Vitalise Business Woman of the Year 2013.
Denise Dorrance
The cartoonist Denise Dorrance has just published a book, It's All About Mimi: the story of the world's most selfish mum.  Mimi is a committed, stick-thin fashionista who we meet as she goes through pregnancy, childbirth and early motherhood, determined not to let baby get in the way of her gloriously self-indulgent life style.  So where does Mimi come from and what does she say about the way we negotiate the trials and tribulations of new motherhood?  Denise joins Jane to explain all.
Credits
| Role | Contributor |
| --- | --- |
| Presenter | Jane Garvey |
| Interviewed Guest | Naomi Campbell |
| Interviewed Guest | Benjamin Cook |
| Interviewed Guest | Julie Kenny |
| Producer | Emma Wallace |