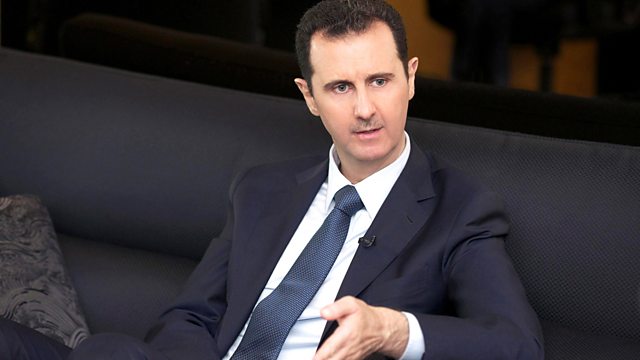 Syria: Inside the Opposition
Listen in pop-out player
Syria's opposition movements comprise a diverse range of political and armed groups. But how do they differ in terms of their ideology, their modus operandi and in their vision for a post-conflict Syria?
Edward Stourton investigates the numerous alternatives to President Assad and assesses which groups are gaining or losing influence on the ground after more than two years of bloody fighting.
The programme will hear from those in charge of the National Coalition - the Istanbul based group officially recognised by the UK government but dismissed by some as "the opposition of the hotels".
Ahead of the United Nations Geneva II negotiations, expected in late November, Edward Stourton will examine why, in a country with an overwhelming Sunni Muslim majority, a leader from the small Alawi minority community has managed to hang on to power.
Contributions from:
Monzer Akbik, Chief of Staff to the President of the National Coalition;
Walid Saffour, former Muslim Brotherhood activist and Coalition Representative to the UK;
Sheikh Mohammed Yaqoubi, Syrian Sunni scholar;
Raphael Lefevre, author of Ashes of Hama: The Muslim Brotherhood in Syria;
Aron Lund, Middle East analyst;
Faisal Irshaid, BBC Monitoring.
Producer: Hannah Barnes.
Last on
Does the Middle East still recognise the 'lines in the sand' imposed by the West?

Egypt's Muslim Brotherhood won at the polls but failed to keep power. What went wrong? .