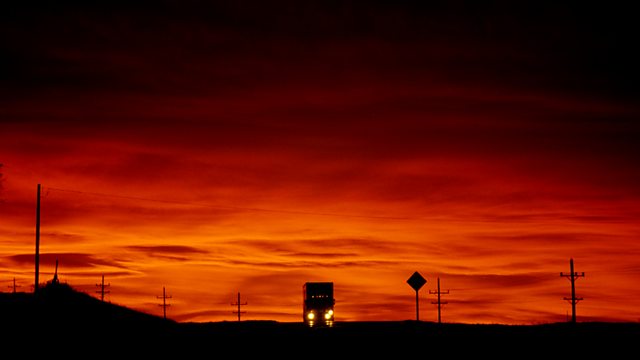 Episode 1
Catriona Young presents. Rising Stars of Classical Music -Spanish pianist Luis Grané (age 28) A week of programmes featuring young musicians making an impression.
12:31 AM
Albeniz, Isaac [1860-1909]
Five Spanish Pieces
Luis Grané (piano)
1:04 AM
Liszt, Franz [1811-1886]
En rêve, nocturne, S. 207; Ballade No. 2 in B minor, S. 171
Luis Grané (piano)
1:22 AM
Chopin, Fryderyk [1810-1849]
Three Nocturnes, op. posth;
Luis Grané (piano)
1:34 AM
Chopin, Fryderyk [1810-1849]
Polonaise for piano (Op.53) in A flat major "Eroica"
Luis Grané (piano)
1:42 AM
Albeniz, Isaac [1860-1909]
Granada (Serenade), from 'Suite Española, op. 47'
Luis Grané (piano)
1:47 AM
Debussy, Claude (1862-1918)
Iberia: Images for Orchestra, No. 2
Bergen Philharmonic Orchestra, Jun Märkl (conductor)
2:10 AM
Rodrigo, Joaquín (1901-1999)
Three Spanish Compositions
Goran Listes (guitar)
2:24 AM
Albéniz, Isaac (1860-1909)
Cordoba ? from Cantos de Espana (Op.232 No.4)
Eolina Quartet
2:31 AM
Barber, Samuel (1910-1981)
Concerto for violin and orchestra (Op.14)
James Ehnes (violin), Vancouver Symphony Orchestra, Bramwell Tovey (conductor)
2:55 AM
Norman, Ludvig (1831-1885)
String Sextet in A major (Op.18) (1850)
Stockholm String Sextet
3:21 AM
Abel, Carl Friedrich (1723-1787)
Symphony in A major Op,10 No.6
La Stagione Frankfurt, Michael Schneider (conductor)
3:34 AM
Grieg, Edvard (1843-1907)
Selected Lyric Pieces
Leif Ove Andsnes (piano)
3:51 AM
Franck, César (1822-1890)
Choral for organ no.3 in A minor (M.40)
Ljerka Ocic (organ of the Lisinski Concert Hall, Zagreb)
4:04 AM
Sibelius, Jean (1865-1957)
Valse Triste ? from Kuolemo (Op.44 No.1)
CBC Vancouver Orchestra, Mario Bernardi (conductor)
4:09 AM
Mauchaut, Guillaume de (c.1300-1377)
Ballade 32, 'Ploures, dames, ploures vostre servant' ? from Le Veoir Dit
Oxford Camerata , Jeremy Summerly (conductor)
4:18 AM
Moszkowski, Moritz (1854-1924)
Guitarre
Jan-Erik Gustafsson (cello), Heini Kärkkäinen (piano)
4:23 AM
Shostakovich, Dmitry (1906-1975)
Festive Overture (Op.96)
BBC Symphony Orchestra, Leonard Slatkin (conductor)
4:31 AM
Bellini, Vincenzo (1801-1835), arr. unknown
Concerto in E flat for oboe
Geoffrey Payne (trumpet), Melbourne Symphony Orchestra, Michael Halasz (conductor)
4:39 AM
Gesualdo, Carlo (c.1560-1613)
Mercé, grido piangendo
Ensemble Daedalus , Roberto Festa (director)
4:44 AM
Diamond, David (1915-2005)
Rounds for string orchestra
CBC Vancouver Orchestra, Mario Bernardi (conductor)
4:59 AM
Rathaus, Karol (1895-1954)
Prelude and Gigue in A major for orchestra (Op.44)
Polish Radio National Symphony Orchestra in Katowice, Joel Stuben (conductor)
5:08 AM
Handel, Georg Frideric [1685-1759]
Trio Sonata in C minor (Op. 2 no. 1)
Bolette Roed (recorder), Arte dei Suonatori (ensemble)
5:20 AM
Dvorák, Antonín (1841-1904)
Slavonic Dance No. 12 in D flat major (Op.72 No.4)
Bergen Philharmonic Orchestra, Juanjo Mena (conductor)
5:26 AM
Lipinski, Karol Józef (1790-1861)
Violin Concerto No.4 in A major (Op.32)
Albrecht Breuninger (violin), Polish Radio Symphony Orchestra, Wojciech Rajski (conductor)
5:42 AM
Schumann, Robert (1810-1856)
Piano Trio No.2 in F major, Op.80
Christopher Krenyak (violin), Jan Insinger (cello), Dido Keuning (piano)
6:08 AM
Bach, Johann Sebastian (1685-1750)
Jesu, meine Freude ? motet (BWV.227)
Orchestra and Choir of Latvian Radio, Aivars Kalejas (organ), Sigvards Klava (conductor).
Last on
More episodes
Previous
You are at the first episode