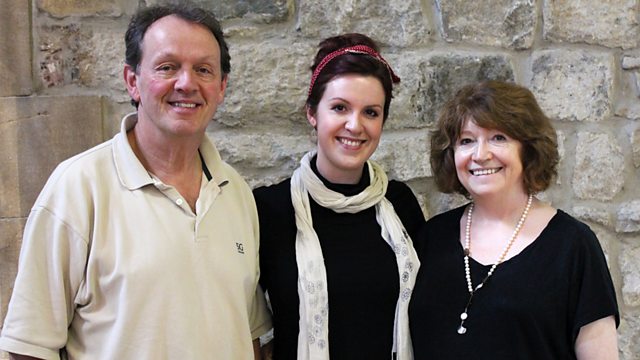 Free Thinking: Who's in Control?
In this special edition of Words and Music, recorded in front of an audience at St Marys Heritage Centre, Gateshead as part of this year's Free Thinking Festival, readers Kevin Whately (Inspector Morse, Auf Wiedersehen, Pet) and Madelaine Newton (When the Boat Comes In), read a selection of poetry and prose on the theme of this year's festival: 'Who's In Control?'.
They appear alongside their daughter Kitty Whately, the mezzo-soprano and BBC Radio 3 New Generation Artist, the acclaimed Leonore Piano Trio and Kathryn Tickell, the Northumbrian piper and composer whose work is deeply rooted in the folk traditions of the North East.
Words come courtesy of Shakespeare, Dickens and Wordsworth, and musically we'll move from Beethoven to Sondheim, Arne to Mahler.
BBC Radio 3's Free Thinking Festival takes place at Sage Gateshead 25-27 October and is broadcast for three weeks on Radio 3 from Friday 25 October.
Last on
Producer's Note
Who's in control? A question we ask ourselves in the workplace, in our relationships, in our families and when we survey the society in which we live. In this special edition of Words and Music here at the Free Thinking Festival we'll be exploring ideas of control, from Shakespeare and Wordsworth to Roald Dahl, alongside music which takes us from the vitality of English folk, to the revolutionary zeal of Beethoven and the caustic brilliance of Sondheim. 
The workplace is rife with individual battles for control, and throughout today's programme we'll catch glimpses of workers grappling with their fate; from the young lad excited about starting work in the nightmarish mines in Joseph Skipsey's Mother Weeps, to George Orwell's biting satire on Stalin's Russia in Animal Farm. Britten's arrangement of Come you not from Newcastle? and William Pigg's Carrick's Hornpipe situate us musically in the North-East, before we hear Jack Davitt's take on the building of Hadrian's Wall, an epic undertaking which culminates in a Geordie version of Hadrian thanking his legions of 'peasant' workers by exclaiming: 'Lads, Aa'm ower the moon'. 
Thomas Arne's delicate setting of Ariel's Where the bee sucks, there suck I from Shakespeare's The Tempest takes us to the island on which Shakespeare explored the idea of control. Prospero's sorcery represents the autocratic use of control on the mysterious island, including manipulating the weather. Humanity is often powerless in the face of the un-controllable natural world, and we move from one tempest to another as we join Ishmael on the storm-battered deck of The Pequod, in Herman Melville's Moby-Dick.
Romantic relationships and families are other familiar sites for our everyday grapples with control. We're lucky enough to have the talented Whately family reading and singing for us today, so we're in a prime position to explore familial power struggles! We'll have a glimpse of marital discord from Sondheim's Follies, before returning to The Bard for the definitive example of a marriage with 'control issues', that of the savagely ambitious Lady Macbeth and her ill-fated husband. Roald Dahl and Gustav Mahler appear back-to-back with warnings about badly behaved children – the result of family life where the control dynamic has gone seriously awry.
Perhaps the ultimate expression of societal control comes in the form of our leaders – and more dramatically – from their overthrow. We hear Anna Akhmatova's heart-breaking reflection on the terrifying grip of Stalinism, alongside Shostakovich's Second Piano Trio. Wordsworth anxiously muses on the devastation of post-revolutionary Paris in The Prelude, rendered 'Defenceless as a wood where tigers roam'. Beethoven, once described by Stravinsky as 'the friend and contemporary of the French Revolution', provides the musical counterpoint to Wordsworth's turmoil. We remain in the era of romance and revolution for the close of the programme, with Shelley's celebrated vision of hubris in Ozymandias. It's a vision of pathos, where control was once wielded, was lost, and now echoes into silence:
Nothing beside remains. Round the decay
Of that colossal wreck, boundless and bare
The lone and level sands stretch far away.
Georgia Mann-Smith (producer)