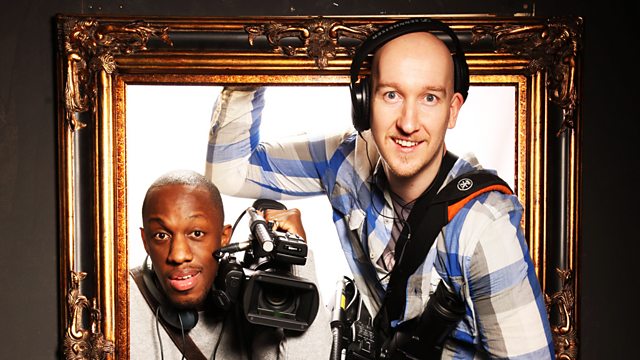 Muse of Fire: A Shakespearean Road Movie
Ten Oscar nominees, five Oscar winners, one dame, seven knights and two friends will change the way you feel about Shakespeare forever. This documentary follows actors Giles Terera and Dan Poole around the world as they try to conquer their fear of Shakespeare. In a clapped-out car, with spiralling debts and a single-minded determination to meet some of the world's biggest stars, their chaotic journey takes them from Elsinore in Denmark to London's Globe Theatre to Hollywood.
Starring Judi Dench, Jude Law, Ewan McGregor, Steven Berkoff, Ian McKellen, Derek Jacobi, Alan Rickman, James Earl Jones, Mark Rylance, Dominic West and Baz Luhrmann, Muse of Fire is a smart, subversive, idiosyncratic road movie in search of the enduring power of one of the greatest playwrights of all time.
Credits
| Role | Contributor |
| --- | --- |
| Producer | Dan Poole |
| Writer | Dan Poole |
| Director | Dan Poole |
| Producer | Giles Terera |
| Writer | Giles Terera |
| Director | Giles Terera |
| Participant | Adrian Schiller |
| Participant | Alan Cumming |
| Participant | Alan Rickman |
| Participant | Amanda Wilkin |
| Participant | Amy Beth Hayes |
| Participant | Baz Luhrmann |
| Participant | Ben Kingsley |
| Participant | Bonnie Greer |
| Participant | Brian Cox |
| Participant | Christian Roe |
| Participant | Christopher Eccleston |
| Participant | Cicely Berry |
| Participant | Dan Poole |
| Participant | Daniel Evans |
| Participant | Derek Jacobi |
| Participant | Dominic Dromgoole |
| Participant | Dominic West |
| Participant | Ed Cornely |
| Participant | Ellie Zeegen |
| Participant | Ewan McGregor |
| Participant | Finty Williams |
| Participant | Fiona Shaw |
| Participant | Frances Barber |
| Participant | Geraldine James |
| Participant | Giles Terera |
| Participant | Greg Burridge |
| Participant | Harold Bloom |
| Participant | Hattie Morahan |
| Participant | Ian McKellen |
| Participant | Ian Ogilvy |
| Participant | Jaime Murray |
| Participant | James Earl Jones |
| Participant | Jason Flemyng |
| Participant | Jeffery Kissoon |
| Participant | Jeremy Irons |
| Participant | John Hurt |
| Participant | John Leguizamo |
| Participant | Jude Kelly |
| Participant | Jude Law |
| Participant | Judi Dench |
| Participant | Julie Taymor |
| Participant | Kobna Holdbrook-Smith |
| Participant | Louise Dylan |
| Participant | Lucy May Barker |
| Participant | Mackenzie Crook |
| Participant | Maria Aberg |
| Participant | Mark Rylance |
| Participant | Michael Attenborough |
| Participant | Michael Boyd |
| Participant | Michael Grandage |
| Participant | Michael Gambon |
| Participant | Michael Radford |
| Participant | Mike McShane |
| Participant | Mireille Maalouf |
| Participant | Nancy Wei George |
| Participant | Nathan Stewart-Jarrett |
| Participant | Nicholas Hytner |
| Participant | Patrick Spottiswoode |
| Participant | Peter Gill |
| Participant | Peter Hall |
| Participant | Rachel Winters |
| Participant | Ralph Fiennes |
| Participant | Rita Dove |
| Participant | Romola Garai |
| Participant | Rory Kinnear |
| Participant | Ruth Negga |
| Participant | Sandy Foster |
| Participant | Simon Russell Beale |
| Participant | Steven Berkoff |
| Participant | Toby Stephens |
| Participant | Tom Hiddleston |
| Participant | Tony Hasnath |
| Participant | Zoe Wanamaker |