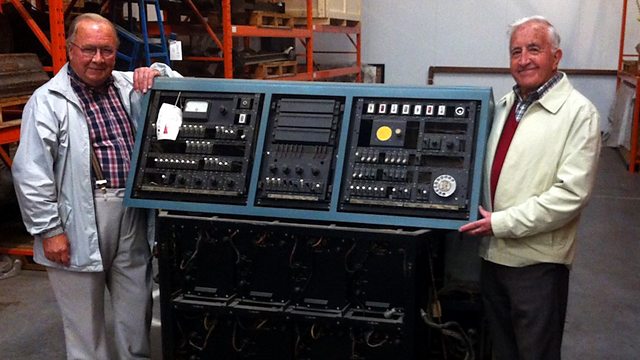 22/10/2013
Adam Walton looks back to the early days of computing in Wales and reunites one of Wales's first programmers with the first Welsh-built computer.
Last on
The First Welsh Computer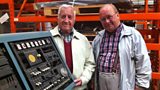 In this week's programme Adam finds himself on an industrial estate just off the A470 north of Cardiff. He's visiting the National Museum of Wales' Collections Centre at Nantgarw where they keep all the exhibits that aren't currently on display. It's a gigantic warehouse full of buses, cars, steam engines, coal trucks, even a Sea King helicopter.
But the reason Adam is there is to take a look at one of the last surviving examples of the first computer to be made in Wales. The Stantec Zebra was built in Newport in the late 1950s and early '60s and Adam reunites the machine with two of Wales' first computer programmers who trained on it: Noel Cox and Rod Delamere.
Today computers are ubiquitous, touching every corner of our lives but there was a time when machines like the Stantec Zebra weren't taken for granted, when they were objects of mystery and fascination and people like Rod and Noel were the high priests who tended them.
This week's Science Café tells the story of how, in the late 1950s and early 1960s the age of computing first came to Wales. Computers have been around for long enough now for them to be the focus of historians and museum collections and Adam meets John Tucker, Professor of Computer Science at Swansea University and curator of the University's History of Computing Collection. John shows Adam Swansea University's first computer, an IBM 1620, and they talk about the important role of computers in the design of the steel works at Port Talbot. He also reveals Wales' important contribution to the early internet.
If you worked with computers in Wales in the 1950s and '60s or have any memories of computers in those early days John would love to hear from you. You can contact him here.