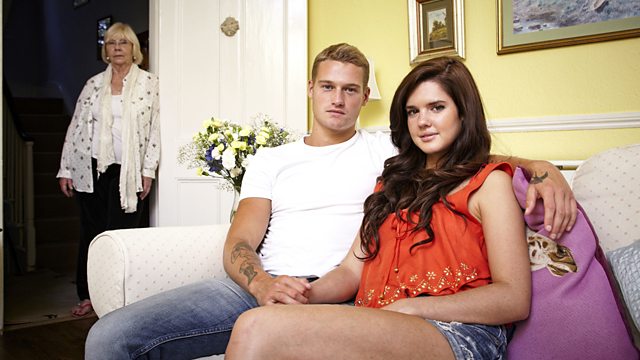 Episode 5
We meet teenage sweethearts Christie and Isaac and college couple Laura and Lee.
Christie and Isaac live with Christie's dad in Stroud and Isaac is literally eating him out of house and home. The couple have big dreams to move to the city, but don't have the big budget to match. How will they fare when they move into a city pad in Cardiff together? Will the couple escape the country and survive on their own in the big city? And can eating machine Isaac curb his huge appetite and learn to live on the budget for the sake of their ambitions?
Laura and Lee met at university and they have been living the life of riley since Lee snuck in whilst Laura's parents were on holiday. He has been there enjoying the good life ever since and has got used to a certain standard of living at this five-star inclusive. He even has his own lad's pad at his in-laws and a state-of-the-art home gym. Laura has a rigid five-year plan to save for a mortgage and Lee is on too much a good thing to want to give up his cushy lifestyle. So can this couple leave their life of luxury and make it in the real world?
Last on
Credits
| Role | Contributor |
| --- | --- |
| Executive Producer | Hannah Wyatt |
| Executive Producer | Kat Lennox |
| Series Producer | Sarah Ladbury |