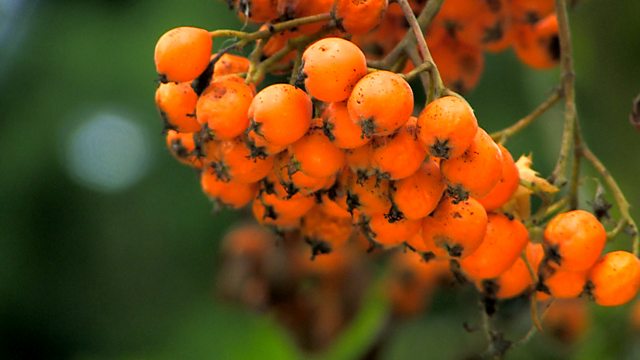 Autumn is in full-swing at Longmeadow but the garden is still looking good. Monty is dividing his Pulmonaria to encourage a good display next spring and he will have some timely advice on protecting plants from the first frosts of the season.
Joe is visiting a suburban oasis packed with tropical plants to find out what it takes to create and maintain exotic planting in a most unlikely location - an exposed back garden with heavy clay soil, just a few miles outside Bristol.
It has been a bumper year for berries and our native rowan trees are heavy with fruit. Carol is revealing the myth and magic of this favourite tree in the wild, before exploring a stellar array of rowans from around the world, in the shadow of the giant telescope at Jodrell Bank Observatory.
Last on
Cyclamen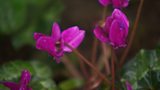 Most of the showy, brilliant white or deep pink and red cyclamen lining the garden centres now are hybrids of Cyclamen persicum. These make fantastic bedding plants, ideal for an autumn display in a sheltered spot. However, really harsh frosts will quickly spoil them so in cold sites bring pots indoors for winter.
For naturalising cyclamen, choose autumn-flowering C. hederifolium or spring-flowering C. coum.  These are very hardy, tolerant of dry shade and spread quickly by self-seeding.  Most C. hederifolium are pale pink but whites and deep pinks like Monty chose can be found too.
More information about cyclamen (www.cyclamen.org)
Garden visited: Jodrell Bank Discovery Centres
Jodrell Bank Discovery Centre
The University of Manchester
Macclesfield
Cheshire
SK11 9DL
The national collection of sorbus is planted in the grounds of the Discovery Centre. The Centre is open daily from 10am until 5pm and is well worth a visit to see the telescope and explore the grounds. 
For more information about visiting, check their website (www.jodrellbank.net)
Rowans for smaller gardens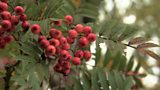 Carol recommends Sorbus 'Joseph Rock', a small to medium-sized tree with glorious pale yellow berries. Here are nine more of the best small rowans for the garden: 
Sorbus 'Copper Kettle': grows to about 18ft; compact; copper-coloured berries
Sorbus 'Eastern Promise': grows to about 18ft; fairly upright habit; pink berries
Sorbus 'Leonard Messel': grows to about 13ft; open habit; bright pink berries
Sorbus 'Autumn Spire': grows to about 18ft; very columnar; yellow berries
Sorbus cashmiriana: grows to about 15ft; open shape; white berries
Sorbus commixta 'Dodong': grows to about 20ft; upright habit; orange berries
Sorbus hupehensis 'Pink Pagoda': grows to about 20ft; open shape; pink berries fade to white
Sorbus rosea 'Rosiness': grows to about 13ft; open shape; large pink berries
Sorbus vilmorinii: grows to about 13ft; very open habit; pink berries fade to white
Garden visited: Beechwell House
Jobs for the weekend: Lift pots off the ground
If terracotta pots are left out over winter, there's a real risk of them becoming waterlogged. Then, if we get cold weather and they freeze, both the plant and the pot can be damaged. So lift the pots up clear of the ground using bricks or pot feet. This will improve the drainage and do a lot to protect your precious pots and plants.
Jobs for the weekend: Insulate cold frames
Tender plants must be kept frost free but greenhouse space can be at a premium and heating is expensive. Another way is to line the inside of a cold frame or box with polystyrene sheeting which you can buy from a builder's merchant. Cut it to fit. Ideally, you need a clear top to let light through but that can be bubble-wrapped if the weather gets very cold.
Other ways to over-winter tender plants (www.rhs.org.uk)
Jobs for the weekend: Take soft fruit cuttings
Now's a good time to take hardwood cuttings from soft fruit like these gooseberries. Choose nice straight stems about 6 - 8 inches long. Strip off the lower leaves and bury them to at least half their length in well-drained soil in a place where they won't need to be disturbed for 12 months.
More about hardwood cuttings (apps.rhs.org.uk)
Credits
| Role | Contributor |
| --- | --- |
| Presenter | Monty Don |
| Presenter | Carol Klein |
| Series Editor | Liz Rumbold |
| Producer | Babs Lewis |
| Presenter | Joe Swift |