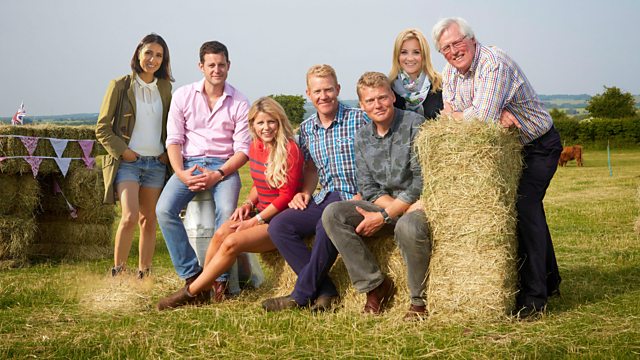 Compilation - Wild Harvest
In this special edition of Countryfile, John Craven is in Somerset where something strange is going on: a mast. Once every ten years or so, trees, shrubs and hedgerows all produce a super abundance of fruit. John finds out it is nature's way of compensating for bad seasons. He then heads for the hedgerows, where amongst the blackberries he finds the odd wild apple tree - the result of casually discarded apple cores. He starts picking and soon has enough to take along to a community apple pressing event, where he catches up with the original cider-drinking superstars, The Wurzels.
During his Wild Harvest, John looks back at some of the best of all things autumnal to have featured on Countryfile. Like the time Matt hooked up with Antony Worrall Thompson to celebrate British sweet chestnuts. Or when Julia got a lesson in the science of autumn from BBC weatherman John Hammond. And the time Ellie went to Wales to discover the dark arts of mushroom growing.
Last on
Superabundance!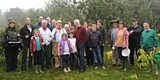 In this seasonal edition of Countryfile John Craven is in Somerset where something strange is going on. The orchards are loaded with more apples than usual, the hedgerows are straining under the weight of blackberries and it has been years since anybody saw so many acorns and beech nuts. What is going on is called a `mast', a superabundance that happens once every decade or so. John finds out that it's nature's way of compensating after particularly bad years.  He also takes to the highways and byways where he discovers that the solitary apple trees you often find by busy roads are often the result of discarded apple cores.  John gathers up enough wild apples to take to a community apple-pressing event where he learns how to turn his wild harvest into delicious fresh juice. And he catches up with Somerset's very own cider-drinking superstars 'The Wurzels'.
Sweet chestnuts
The sweet chestnut is one of our grandest trees but we don't always make enough of its produce.  People on the continent love sweet chestnuts, but it seems in the UK we've never really acquired the taste. Matt Baker goes to the Chilterns to find out what is being done to change our minds.  And to help him get a taste for these overlooked treats he catches up with celebrity chef Antony Worrall Thompson.  Antony cooks up some nutty treats, which Matt takes to the streets of Henley. But what will the locals make of them? 

Find out more about sweet chestnuts and other ancient trees
The science of autumn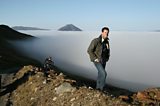 What makes the days shorter? Why do leaves turn spectacular colours?  What is autumn?  Back in October 2010 Julia Bradbury set about answering these questions with the help of BBC weatherman John Hammond.  John explains autumn with nothing more than a pumpkin and a table lamp.  Meanwhile Matt travels to Perthshire in Scotland to find out what causes the fabulous displays of colour we see in our trees at this time of year.
John's truffle hunt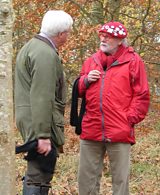 Last year John went in search of one of our most expensive and highly prized foods – truffles. These are not the chocolate variety, but the highly prized and hard to find fungi.  He enlists the help of renowned mushroom hunter Roger Phillips.  Together they head for one of the best truffle woods in the country - a site so secret John has to be blindfolded.  All very cloak and dagger, but was it worth their while?
Mushroom farming
Step aside sheep. Clear away cattle. Make room for mushrooms! North Wales is better known for its traditional agriculture but mushroom grower Cynan Jones is hoping to change all that.  He has learned how to trick nature and guarantee a crop of mushrooms all year round. So Ellie Harrison hotfoots it to Snowdonia to find out just how he does it.
Cooking Japanese Knotweed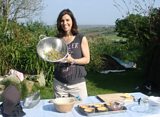 Japanese Knotweed was originally brought into the country as an ornamental plant, but it is now the number one invasive species in the UK and can grow an astonishing 10cm in a day. Julia is in Cornwall where she meets three people with three very different ways of tackling this very knotty problem.
Ellie's seaweed search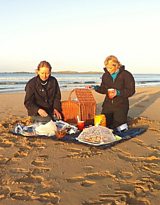 On a cold day in November Ellie is in Northern Ireland where seaweed has been harvested for hundreds of years.  She meets the fisherman who used to gather it with his bare hands, before having a picnic on the shore with scones, soup and cheese all made with local seaweed.  Then she heads indoors to soak away the winter chill in a  relaxing seaweed bath.
Credits
| Role | Contributor |
| --- | --- |
| Presenter | John Craven |
| Presenter | Matt Baker |
| Presenter | Julia Bradbury |
| Presenter | Ellie Harrison |
| Participant | The Wurzels |
| Participant | Antony Worrall Thompson |
| Presenter | John Hammond |
| Series Producer | Teresa Bogan |