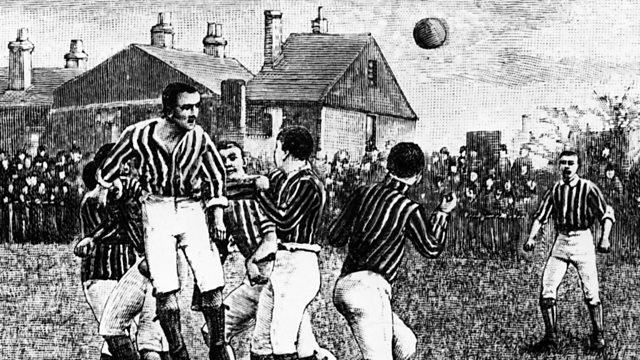 The Father of English Football
In this month 150 years ago, a group of sportsmen met at the Freemasons' Tavern in London's Covent Garden. In an age when football teams played by their own rules, each one differing from the other, the aim was to create a standard code. Their first decision in 1863 was to call themselves the Football Association and, over the course of six often dramatic meetings between October and December, they set down what became the cornerstone of the game of football. The prime mover was Ebenezer Morley.
Hardeep Singh Kohli considers Morley's reputation as the founding father of English football, and traces the arguments of those first meetings through the Minute Book, which many now consider the most valuable historical document in the creation of the modern game. The arguments were often heated and ended with a breakaway group dissenting and eventually forming themselves into the Rugby Union.
Hardeep talks to Jane Clayton, of the International Football Institute at the University of Central Lancashire, about the character of Ebenezer Morley and his colleagues. He visits the FA's headquarters at Wembley, and talks to the historian David Barber. They leaf through the pages of the 150 year old Minute Book, which describes the arguments that took place - particularly over the rules on whether the ball should be carried, and whether players should be allowed to kick, hack and trip an opponent.
Hardeep also meets David Elleray, Chairman of the FA Referees' Committee, who discloses how current rules are discussed and altered and how referees apply them.
Producer: Richard Bannerman
A Ladbroke production for BBC Radio 4.
Clare Balding looks at the era when footballers were gentlemen both on and off the pitch.

Clare tells the story of how football went from an amateur pastime to big business.