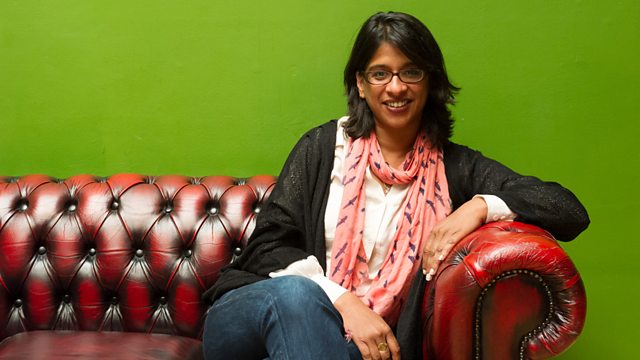 Indhu Rubasingham; Spying on your children; Dolores Huerta
Listen in pop-out player
How female senators played a key role in the US shut down negotiations.
Artistic Director Indhu Rubasingham on bringing 'unheard voices' to the Tricycle Theatre.
When does supervision of your children become spying? Do you snoop on their texts and would you ever put a camera in their room?
Conflicting advice on what to eat during pregnancy confuses many women. The charity 'Food and Behaviour Research' brings us up to date with the latest on pregnancy nutrition.
Dolores Huerta spoke to Valeria Perasso as part of the BBC World Service series The Age of Reason, a celebration of women in their 70s and 80s who are global leaders in their chosen field.
Presented by Jenni Murray
Produced Louise Corley.
Last on
The US Government Shutdown
What role did female senators play in re-opening the US government? Jenni Murray is joined by Felicity Spector, who specialises in US affairs at Channel Four News, and by Jane Little, who reports on American politics from Washington.
Indhu Rubasingham
In May last year, Indhu Rubasingham became the Artistic Director of the London's Tricycle Theatre - a venue known for its politically engaged plays. She replaced Nicolas Kent who was in the role for 27 years and who directly blamed subsidy cuts for his departure. Located in Brent - the most diverse borough in London - Indhu wants the theatre to become "a court of unheard voices." Jenni talks to Indhu about her latest work and her vision for the future.
Handbagged, written by Moira Buffini and directed by Indhu Rubasingham, is running at the Tricycle Theatre until 16 November.
Is It Ever OK To Spy On Your Children?
The chef Gordon Ramsay recently joked about installing a video camera in his teenage daughter's bedroom because she'd been spending a lot of time with her boyfriend there and he wanted to check they were really revising. At a time when we are constantly warned about the dangers children can face online, uploading inappropriate photos and videos, grooming, and also sexting, does that ever make it okay to snoop on them? Annalisa Barbieri, who writes an advice column on parenting in the Guardian, and novelist Amanda Craig discuss.
Dolores Huerta
Dolores Huerta is 83 and is one of America's leading civil rights campaigners. She's spent her life fighting for the rights of farm workers, immigrants, and women. She helped establish the American Farmworkers' Association in the 1960s and secured improved working conditions for hundreds of thousands of migrant workers, most of them from Latin America. She's fought for women's rights and has campaigned to encourage more women and people of Latin American origin to run for political office. She was with Presidential hopeful Bobby Kennedy when he was assassinated. Dolores Huerta has been arrested scores of times because of her campaign work, and was badly injured by the police in a demonstration in 1988. She's also raised 11 children. At the age of 83 she is still politically active – her fame is such that she's become the subject of ballads and murals. Dolores Huerta spoke to Valeria Perasso as part of the BBC World Service series The Age of Reason - a celebration of women in their 70s and 80s who are global leaders in their chosen field.
You can hear the full interview with Dolores Huerta this Saturday on the BBC World Service at 6pm, and again on Sunday at 12 noon
Feeding Healthy Minds
What mothers eat before and during pregnancy can have a lifelong impact on their child's health and development. Jenni speaks to academic, author, and founder of Food And Behaviour Research (FAB), Dr Alex Richardson, ahead of a conference they've organised in London. On the agenda is the role of diet in how our brain develops and functions, and its impact on our moods, our behaviour and our capacity to learn.
Credits
| Role | Contributor |
| --- | --- |
| Presenter | Jenni Murray |
| Interviewed Guest | Indhu Rubasingham |
| Interviewed Guest | Alex Richardson |
| Interviewed Guest | Felicity Spector |
| Interviewed Guest | Jane Little |
| Interviewed Guest | Annalisa Barbieri |
| Interviewed Guest | Amanda Craig |
| Producer | Louise Corley |