Paul Michael Glaser, Thomasina Lowe, Emily Maguire, Harry Ritchie
Libby Purves meets Thomasina Lowe, daughter of President Kennedy's official photographer; actor and director Paul Michael Glaser; singer Emily Maguire and writer Harry Ritchie.
Thomasina Lowe is the daughter of the late Jacques Lowe, President Kennedy's presidential campaign photographer. Jacques had unprecedented access to the personal and professional life of one of the most charismatic and powerful leaders of the 20th Century. He took over 40,000 photographs of JFK at work and with his family, showing both the public and private man. Jacques's priceless negatives, which were stored in the World Trade Center, were destroyed during the events of 9/11. His prints - which he kept at home - form the exhibition My Kennedy Years at Proud Chelsea. His memoir of the same name is published by Thames and Hudson.
Paul Michael Glaser is an actor, director and writer, best known for playing David Starsky in the TV series, Starsky and Hutch. His is currently playing Tevye in a UK touring production of the musical Fiddler on the Roof, directed by Craig Revel Horwood. In addition to his work on stage and screen, Paul Michael Glaser writes poetry and children's literature. He is Honorary Chairman of the Elizabeth Glaser Pediatric Aids Foundation. Fiddler on the Roof is touring the UK and Ireland.
A classically-trained musician, singer Emily Maguire's song-writing was born out of adversity. In her teens she contracted fibromyalgia pain syndrome, a chronic disorder which affects the central nervous system. Her illness kept her at home where she taught herself to write songs. In her twenties Emily was diagnosed with bipolar disorder and moved to Australia to help stabilise her illness and make music. Emily's breakthrough came in 2007 when she supported Don Maclean on tour, culminating in a show at the Royal Albert Hall. Her new album, Bird Inside A Cage, is released on Shaktu Records. She is currently touring.
Harry Ritchie is a writer and former literary editor of the Sunday Times. His latest book, English for the Natives, outlines the rules and structures of the English language as they are taught to foreign students. English for the Natives - Discover the Grammar You Don't Know You Know is published by John Murray.
Producer: Paula McGinley.
Last on
In the studio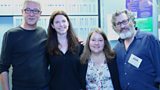 L-R: Harry Ritchie, Emily Maguire, Thomasina Lowe, Paul Michael Glaser
Credits
| Role | Contributor |
| --- | --- |
| Presenter | Libby Purves |
| Interviewed Guest | Thomasina Lowe |
| Interviewed Guest | Paul Michael Glaser |
| Interviewed Guest | Emily Maguire |
| Interviewed Guest | Harry Ritchie |
| Producer | Paula McGinley |