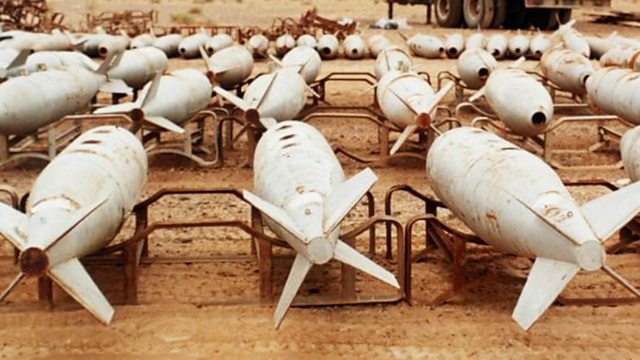 Chemical Weapons and the Law
Listen in pop-out player
In this week's programme Law in Action charts the history of laws forbidding the use of chemical weapons, and reveals how they first emerged in India over 2000 years ago. Today, with Syria now signing up to the chemical weapons convention, could we be on the brink of abolishing chemical weapons for good?
Joshua Rozenberg interviews Karim Hammoud from the Organisation for the Prohibition of Chemical Weapons, which is responsble for enforcing the treaty, and asks why we need special laws for chemical weapons - what distinguishes them other deadly weapons?
Also: The programme reflects on the first public lecture given by the new Lord Chief Justice, Lord Thomas of Cwmgiedd, presented at Gray's Inn in London. Titled 'Justice in One Place or Several?', Lord Thomas reveals his proposal to enhance the role of courts outside of London.
Joshua also debates the merits of allowing TV cameras into the Court of Appeal with Baroness Helena Kennedy QC - will it help open up an understanding of the law to the public?
Contributors:
Jean Pascal Zanders, chemical weapons expert and consultant, founder of the-trench.org
Karim Hammoud, Senior Legal Officer, Organisation for the Prohibition of Chemical Weapons.
Baroness Helena Kennedy QC.
British veterans of World War I, archive courtesy of the Imperial War Museum, London.
Producer: Mike Wendling
Series Producer: Richard Fenton-Smith
Editor: Richard Knight.
Last on
Dominic Grieve discusses sentencing, the laws of war and the European human rights law.