Friends of the Elderly
Baroness Boothroyd presents the Radio 4 Appeal on behalf of the charity Friends of the Elderly
Reg Charity:226064
To Give:
- Freephone 0800 404 8144
- Freepost BBC Radio 4 Appeal, mark the back of the envelope Friends of the Elderly.
Give Online www.bbc.co.uk/radio4/appeal.
Last on
Friends of the Elderly
Our vision is that every older person is treated with dignity and respect and has the opportunity to live a fulfilled life. We passionately believe that older age should not be defined by loneliness caused by poverty, sickness or frailty. 
Our befriending services recruit, train and support volunteers to make regular phone calls and visits to isolated older people living in their own homes.  They ensure lonely older people receive the friendship they so desperately need, to give them a reason to smile again. Our 25 care homes and services across the country also mean we are ideally placed to put an end to the isolation older people feel, for example when we welcome them for social events or festive celebrations.  
It doesn't take much to change lives – every day we see the incredible difference a little companionship and care can make. An act of kindness really does make a difference.
Befriending Services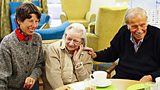 We provide friendship all year around through our befriending services, offering a visit at home or a regular phone call from a volunteer we have carefully matched to a lonely older person.
Friends of the Elderly provide the training and support our volunteers need to provide meaningful companionship to those who need it so we can give them a reason to smile again.
Festive Celebrations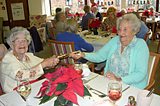 Each year, we open the doors of our homes and services to older people at Christmas – offering companionship, festive cheer and other things we might take for granted like a meal with friends and a gift and card. This is just one way we are working hard to reduce isolation and loneliness in older people.