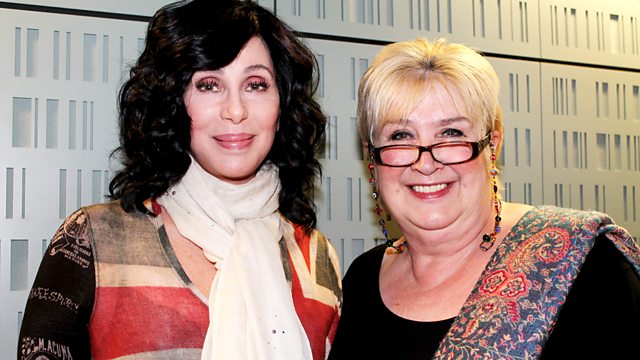 Weekend Woman's Hour: Cher; Gloria de Piero; Patsy Kensit
Listen in pop-out player
Cher - singer, actress, campaigner tells Jenni about her life, her look and her family.
Caroline Lucas MP explains why she thinks there's no place for lads' mags alongside the weekly groceries.
Gloria de Piero MP, the new shadow minister for women and equalities, tells us about why she posed topless aged 15 years, her Bradford upbringing and why she thinks it's important to bring more working-class people into politics.
Patsy Kensit on peas, Elizabeth Taylor's diamond and the loss of both her parents when she was a young woman.
Campaigner and former supermodel, Waris Dirie winner of the 2013 Women of the Year Campaigning Award. She tells about her Desert Flower Foundation which is trying to stop the worldwide practice of female genital mutilation.
Women tricked into relationships by under cover officers talk about their experiences.
Daria Cybulska of Wikimedia and neuropsychologist Emma Claire Palmer explain why they want to get more female science and technology experts in the pages of Wikipedia.
Presented by Jane Garvey
Produced by Steven Williams.
Last on
Cher
Age 67, back after 11 years with a new album, a US number one single called Woman's World, and as the only artist to have had a single on the Billboard pop charts in each of the last six decades. Earlier in the week Cher joined Jenni to describe her life as a powerful female icon across these changing decades, and how her experiences as a woman have shaped her.
Cher's first studio album of new music in over a decade, Closer To The Truth, is out this week on Warner Bros Records, and her next single, I Hope You Find It, is out on October 28
Lose the Lads Mags!
Lads mags are pornographic, fuel sexism, breach supermarkets' "no porn" policy and can violate equality law, according to women's rights groups Feminista and Object.  This week Caroline Lucas MP is hosted a parliamentary meeting to call on major supermarket chains to stop selling them.  Caroline joined Anita Anand on Monday to explain why.
Actor Romola Garai is backing the campaign to Lose the Lads Mags!
Gloria De Piero
Gloria De Piero was promoted in last week's opposition reshuffle to become the shadow minister for women and equalities. The former journalist became best known as political editor of breakfast television show GMTV. She joined Jenni on Thursday to talk about her plans to make politics more accessible.
Ada Lovelace Day
Ada Lovelace Day was set up to honour the work of the Victorian mathematician whose work was crucial to the invention of the modern computer and to encourage and celebrate women in science, technology, engineering and maths.  Who are the women in STEM now and from history who we should know more about? What are the new initiatives to make information about women in STEM more available? Earlier in the week Anita Anand was joined by the Founder of Ada Lovelace Day, Sue Charman-Anderson, who champions women in tech; Sue Nelson who has written about pioneering astronomer Willamina Flemming in a new book 'A Passion for Science'; Daria Cybulska of Wikimedia and neuropsychologist Emma Claire Palmer.
More info on the Royal Society Women in Science Event October 2013
Women in Science Wikipedia edit-a-thons 2013
More on how women can contribute to Wikipedia
Wikipedia editing tutorial
Some suggestions of what to edit
Read about Scottish Women of Science
Listen to more from Radio 4 on Ada Lovelace
Undercover Police Officers
Eight women are suing the Metropolitan Police and the Association of Chief Police Officers claiming they were tricked into long standing relationships with undercover officers. In 2010  Mark Kennedy was unmasked as an undercover police officer who'd been infiltrating environmental protest groups and this has led to revelations that other officers had relationships with women they were spying on and they didn't reveal their true identities. The women argue that the men  they fell in love with used them physically and emotionally. So is forming intimate relationships a legitimate part of a difficult and vital area of policing, or an abuse of power by the state? On Friday Jenni spoke to two of the women and to Chief Constable Mick Creedon who is leading Operation Herne, an investigation into undercover policing.
Waris Dirie
This year the Women of the Year Campaigning Award goes to campaigner and former supermodel, Waris Dirie.  Waris founded the Desert Flower Foundation in 2002 to fight against the worldwide practice of female genital mutilation (FGM) and provide support for women and girls subjected to the practice. Waris herself the victim of genital mutilation was born into a nomad family living in the Somali desert. At the age of 13, she fled from a forced marriage to London, where she was discovered working in a burger bar by a modelling agency scout.  She went on to have a hugely successful modelling career but at the height of her career in 1997 she chose to speak for the first time about her experience of FGM and since then she has campaigned tirelessly to put an end to FGM.  Anita Anand caught up with Waris just before she received her award.
Patsy Kensit
Patsy Kensit, actress, singer and model, landed her first televised role in 1973 at the age of four in an advert for peas. She starred in films Absolute Beginners and Lethal Weapon 2, married rockers Jim Kerr and Liam Gallagher, and fronted the band Eighth Wonder.  She returned to the small screen in 2004 with parts in Emmerdale, then Holby City.  On Thursday she shared stories of her family's association with the Krays and filming with Elizabeth Taylor with Jenni.
Patsy Kensit on BBC1's Who Do You Think You Are
Absolute Beginner: My Story by Patsy Kensit Published 10th October 2013 Hardback £20.00.  Pan Macmillan. ISBN 978-0-283-07191-1.
Credits
| Role | Contributor |
| --- | --- |
| Presenter | Jane Garvey |
| Editor | Jane Thurlow |
| Interviewed Guest | Cher |
| Interviewed Guest | Caroline Lucas |
| Interviewed Guest | Gloria De Piero |
| Interviewed Guest | Emma Palmer |
| Interviewed Guest | Daria Cybulska |
| Interviewed Guest | Waris Dirie |
| Interviewed Guest | Patsy Kensit |
| Producer | Steven Williams |