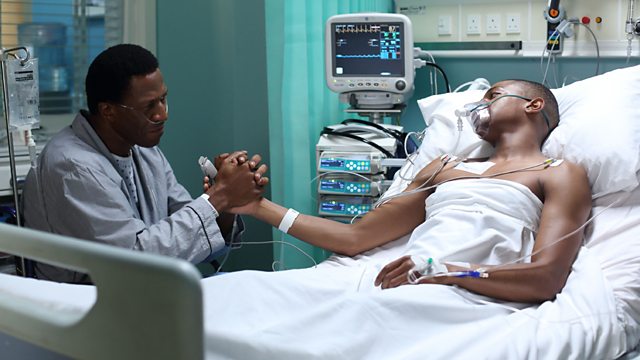 14/10/2013
Noticing that Ronnie is missing Roxy, Jack decides to throw her a flat warming party and insists on inviting all the family, though Ronnie is sceptical. Jack braces himself as he invites Phil but, even after everything Ronnie has done for him, Phil refuses to play happy families. With the party in full swing, Ronnie's mood brightens when Phil decides to put in an appearance. As tensions rise between Jack and Phil, Phil can't hold his feelings in any longer and let's rip, telling Jack and Ronnie exactly what he thinks of their relationship, before making Ronnie choose between him or Jack. Knowing how much he loves her, Ronnie chooses Jack. As Phil walks away, Jack knows he is now all she has.
Alice is worried Michael's having second thoughts about their relationship after spending the night together, but Michael quashes her doubts. Though he asks her to keep quiet about their relationship and go on as normal, as it's the only way the two of them and Scarlett have the chance of becoming a family. Back at Janine's, Alice is fed up of Janine badmouthing Michael and accidentally let's slip that she and Michael slept together. Finding herself sacked, Alice plucks up the courage to tell Michael and is relieved that he isn't angry. However, as Alice leaves the room its clear Michael is furious with her for messing up his master plan.
Bianca calls Carol to tell her she won't be back for another few weeks. Carol asks David to leave anyway, but David manipulates Carol so she allows him to stay. Not trusting herself to be alone with David, Carol decides to go with Masood to visit Syed. As she says goodbye to her grandchildren its clear David doesn't know she's leaving. However, little does Carol know Masood has seen David and broken the news to him. David confronts Carol, who is torn, as deep down she wants David to beg her to stay. When he doesn't, she leaves thinking she may never see him again. However, David knows more than ever that Carol still loves him and he isn't going anywhere.
Sam is worried sick and wracked with guilt while Dexter lies unconscious in a medically induced coma. A fragile Ava tries to reassure Sam that Dexter will pull through but Sam blames himself for Dexter's condition. As his friends arrive, Dexter begins to come around, much to everyone's relief. Sam thanks Dexter for everything he has done for him and its clear how much the father and son love one another.
Carl has another dodgy car deal for Phil, which Phil eventually agrees to think about. Meanwhile, Peter is wary of Carl when he enquires about Ian's whereabouts. Later, Ian tries to cover his fright when Carl arrives at Scarlett's to mark his territory, but a suspicious Peter oversees the interaction and decides not to leave Carl and Ian alone.
Elsewhere, Poppy is disappointed in Fatboy when he organises a Miss Teen Vic competition.
Last on
Credits
| Role | Contributor |
| --- | --- |
| Jack Branning | Scott Maslen |
| Ronnie Mitchell | Samantha Womack |
| Phil Mitchell | Steve McFadden |
| Dexter Hartman | Khali Best |
| Sam James | Cornell S John |
| Ava Hartman | Clare Perkins |
| Cora Cross | Ann Mitchell |
| Janine Butcher | Charlie Brooks |
| Michael Moon | Steve John Shepherd |
| Alice Branning | Jasmyn Banks |
| David Wicks | Michael French |
| Carol Jackson | Lindsey Coulson |
| Masood Ahmed | Nitin Ganatra |
| Patrick Trueman | Rudolph Walker |
| Arthur 'Fatboy' Chubb | Ricky Norwood |
| Poppy Meadow | Rachel Bright |
| Tamwar Masood | Himesh Patel |
| Billy Mitchell | Perry Fenwick |
| Lola Pearce | Danielle Harold |
| Jay Brown | Jamie Borthwick |
| Abi Branning | Lorna Fitzgerald |
| Ian Beale | Adam Woodyatt |
| Carl White | Daniel Coonan |
| Peter Beale | Ben Hardy |
| Kat Moon | Jessie Wallace |
| Whitney Dean | Shona McGarty |
| Liam Butcher | James Forde |
| Morgan Butcher | Devon Higgs |
| Nurse Sneddon | Nathalie Buscombe |
| Executive Producer | Lorraine Newman |
| Director | Richard Lynn |
| Writer | Pete Lawson |