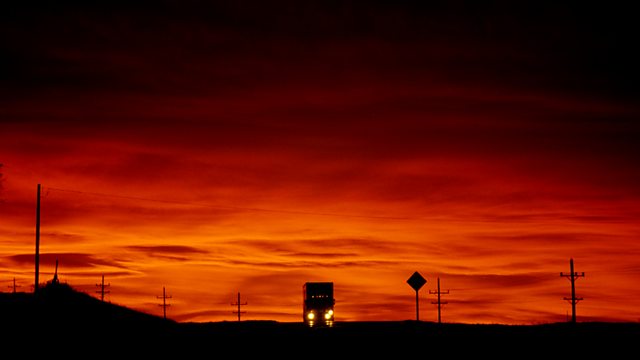 20/10/2013
The Swedish Radio Symphony Orchestra play Beethoven, Dvorak and Shostakovich. Catriona Young presents
1:01 AM
Beethoven, Ludwig van [1770 -1827]
Coriolan - overture (Op.62)
Swedish Radio Symphony Orchestra, Ilyich Rivas (conductor)
1:10 AM
Dvorak, Antonin [1841-1904]
Symphonic variations (Op.78)
Swedish Radio Symphony Orchestra, Ilyich Rivas (conductor)
1:33 AM
Shostakovich, Dmitri [1906-1975]
Symphony no. 1 (Op.10) in F minor
Swedish Radio Symphony Orchestra, Ilyich Rivas (conductor)
2:10 AM
Franck, Cesar [1822-1890]
Sonata for violin and piano (M.8) in A major
Alina Ibragimova (violin), Cédric Tiberghien (piano)
2:37 AM
Elgar, Edward (1857-1934)
Sea Pictures (Op.37)
Margreta Elkins (mezzo-soprano), Queensland Symphony Orchestra, Werner Andreas Albert (conductor)
3:01 AM
Kraus, Joseph Martin (1756-1792)
Quatre Intermèdes et Divertissements for Molière's comedy 'Amphitryon' (VB.27)
L'Arte del mondo, Werner Ehrhardt (conductor)
3:28 AM
Vivaldi, Antonio [1678-1741]
Gloria, cantata for soloists, mixed choir and orchestra in D major (RV.589)
Ann Monoyios (soprano), Matthew White (countertenor), Colin Ainsworth (tenor), Tafelmusik Chamber Choir, Tafelmusik Baroque Orchestra, Ivars Taurins (conductor)
3:57 AM
Ibert, Jacques (1890-1962)
Trio for violin, cello and harp
András Ligeti (violin), Idilko Radi (cello), Eva Maros (harp)
4:12 AM
Ravel, Maurice [1875-1937]
Rapsodie espagnole
BBC Philharmonic, Juanjo Mena (conductor)
4:28 AM
Rameau, Jean-Philippe [1683-1764]
Pieces de Clavecin
Andreas Borregaard (accordion)
4:44 AM
Schubert, Franz (1797-1828)
Ganymed (D.544)
Christoph Prégardien (tenor), Andreas Staier (fortepiano)
4:48 AM
Bach, Johann Sebastian (1685-1750)
Keyboard Concerto No.5 in F minor (BWV.1056)
Angela Hewitt (piano), CBC Vancouver Symphony Orchestra, Mario Bernardi (conductor)
5:01 AM
Haydn, Joseph (1732-1809)
Te Deum in C major (Hob XXIIIc:2)
Netherlands Radio Choir and Chamber Orchestra, Antoni Ros-Marba (conductor),
5:10 AM
Bach, Carl Philipp Emanuel (1714-1788)
Sonata in E minor (Wq.59,1)
Andreas Staier (pianoforte after Anton Walter, Wien 1791, made by Monika May, Marburg 1986)
5:19 AM
Mozart, Wolfgang Amadeus (1756-1791)
Lucio Silla ? Overture (K.135)
Calgary Philharmonic Orchestra, Mario Bernardi (conductor)
5:28 AM
Scarlatti, Domenico [1685-1757]
Sonata for Mandolin in D minor k.90
Avi Avital (mandolin) Shalev Ad-El (harpsichord)
5:37 AM
Tchaikovsky, Pyotr Il'yich (1840-1893)
Marche Slave (Op.31)
Slovenian Radio and Television Symphony Orchestra, Marko Munih (conductor)
5:48 AM
Horovitz, Joseph (b. 1926)
Music Hall Suite
The Slovene Brass Quintet
5:59 AM
Haydn, Joseph (1732-1809)
Sonata for piano (H.16.34) in E minor
Ingrid Fliter (piano)
6:10 AM
Brahms, Johannes (1833-1897)
Clarinet Sonata (Op.120 No 2)
Hans Christian Braein (clarinet), Havard Gimse (piano)
6:31 AM
Schubert, Franz (1797-1828)
6 Moments musicaux for piano (D.780)
Martin Helmchen (piano).
Last on