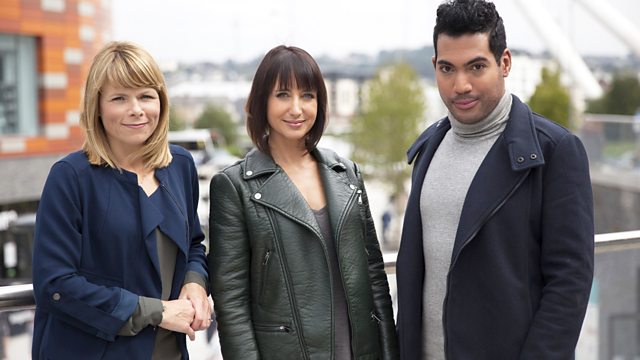 Lucy visits the village of Tregarth near Bangor where residents have been left without a phone and internet service for weeks. And what's worse, many are still waiting for compensation from the company responsible for maintaining the infrastructure. As part of the Live Longer Wales season Rhodri puts the workers at a Newport call centre to the test - can they guess which takeaway meal contains the most fat? And there are top tips from dietician Sioned Quirke on how to cut those calories. And Rachel is finding out about the pitfalls of using free Wi-fi services in public areas with the help of ethical hacker Jason Hart.
Last on
Cut off community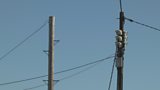 Nestling in the hills outside Bangor the picturesque village of Tregarth certainly has a lot going for it. But there's one thing it doesn't have much of - a mobile phone signal. So for local residents, like Della Fazey, a landline is all-important. "It's part of life to have a landline, particularly because mobile phone reception is so variable," said Della. "And there are some elderly people who dont know how to use a mobile phone and don't own one so they are completely reliant on their landline."
But in May that lifeline was broken when a lorry lost control on a tight bend and hit the pole carrying the phone line. 17 properties were affected, and it wasn't just the landline they lost – the broadband connection also went. That meant their main means of communication were gone.
Everyone was keen to get the problem fixed. So they all contacted their phone companies who then had to contact BT Openreach to sort it out. They're the company responsible for the infrastructure that delivers phone and broadband services to homes across the UK. So if something goes wrong with your phone line it will be them, and not your phone company, who shows up. But it's not as simple as it sounds. Because BT Openreach only deal with the phone companies – so first you have to contact them, who will then contact BT Openreach to arrange an appointment on your behalf.
Days and then weeks passed by without any sign of the services getting back up and running. And the residents were struggling to get by without their normal means of communication. So eventually Della and her neighbours decided to follow BTs well known slogan 'it's good to talk' by holding regular meetings – hoping they'd be able to come up with a plan to get it all sorted.
And it was during these meetings that they discovered they weren't all getting the same story from their different phone companies about when the line was going to be fixed. Sick of the stories and delays caused by a system that wasn't working Della decided to skip the middlemen and go straight to the top. She contacted the Chief Executive of BT Openreach Liv Garfield. And that seemed to do the trick! Six weeks after the line went down - it was fixed.
But while the lines above Tregarth were back up and running, the residents were still getting mixed signals ...this time over refunds. Some people had received them from their phone companies while others have been told they won't be getting any.
BT Openreach said they regretted the inconvenience caused to the residents of Tregarth but it was difficult to sort out the incident quickly because of the  major and costly engineering work that was needed. They said the planning for that work had mostly been done by the  time Della got in touch with their Chief Executive Liv Garfield  and they did keep the different phone companies updated with information.  Unfortunately they're not allowed to contact customers directly.
We also contacted the phone companies involved. And  some residents who hadn't been given any refunds will now be receiving their line rental back.
And it's not just the people of Tregarth who've been struggling to get their phone line problems sorted by BT Openreach. John Bowler from Usk has been having problems with his phone line for almost three years. The line crackles or cuts out every time there's a storm. As John told Lucy it's vital he has a reliable phone line. " I've had a couple of heart attacks in the past, and I have had to telephone for an ambulance," He said. "There's no mobile signal here and my nearest neighbours are almost half a mile away.  So if I have a problem I've got to use my phone line."
After John got in touch with us BT Openreach did arrange for the work to fix his line to take place. 

WiFi danger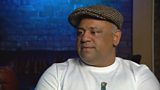 Free public wifi is everywhere, but do you know the dangers when you use it? Jason Hart is an expert in computer security and represents e-Crime Wales. He told X-Ray, "People are really hungry for WiFi now, using their mobile phone, their tablets, their laptops, public places, hotels, cafes, however it's a hackers haven.  People are so vulnerable if they've connected into  a rogue wireless hotspot the attacker can essentially suck up all the personal information, credit card details and passwords."
That's exactly what happened to restaurant owner Iftekhar Haris. He was hacked using free WiFi whilst on holiday in Portugal. "I used the hotel foyer computer to access the internet and all was fine until I actually came back home and a couple of months later when I actually got my statements. I was horrified there were these transactions on my credit card statement saying that I had made three transactions to companies I had no idea who they were".
Apparently over half of us don't know whether the WiFi we log onto is secure or open to anyone, and over 10 per cent of us do internet banking on public WiFi. Figures that every e criminal wants to hear.
So just how easy is it to be hacked using public WiFi? We decided to conduct a test, our expert Jason agreed to set up a fake WiFi site in a Newport bar to test how many phones he'd be able to access. In just two minutes we had ten devices that connected automatically. Jason told us, "It's the invisible threat, it's the unseen attack, once the attacker has managed to get a device to connect to his the attacker can pretty much capture all the information… your credit card details, your passwords…everything."
So how do you prevent that from happening?
1. Make sure your device or your phone asks you if you want to join to a WiFi hotspot. Don't automatically connect.
2. WAIT. Do you really need to use the internet right now? Or could it wait until you're on a secure network?
3. Internet sites with an s in the address are more secure, for example addresses starting HTTPS. No s? Don't risk it.
4. It's very easy for the hackers to get your phone to switch to their FAKE site so if the WiFi on your phone is switched to on - you could be at risk.
5. And finally if you're in any in doubt about how safe a site is don't use it!
Cow's milk or growing up milk?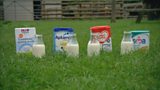 Cow's milk. It's natural, it's cheap and the government says it's suitable for children from the age of one. But now the cow has got competition, in the form of toddler milk. A relatively new product from some of our biggest baby brands.
You've possibly seen the adverts and if you're shopping for baby products, you just can't miss them. Marketing expert Mike Leeson says "All of these products, all of the packing, all of the words, the imagery, are all tested within focus groups before they are launched. So every word on that packaging will help persuade consumers to buy. Look at the sort of words they are using, words like Pronutra, I'm not sure many consumers understand what that is, I certainly don't, words like unique, advanced, gold all of those words are there to reassure parents that the product should be for their child. If you take the numbering on these products, one month from birth for one month and beyond and then two, three to six months, one to two years. The parents will naturally move from one to the other very consciously as you hit those key dates.
It's recommended that toddlers drink 300ml of whole milk a day and eat a balanced diet. So how much does that cost if you rely on the white stuff you've got in your fridge? Over a year, it's around £48 and £144 for three years for milk from the supermarket. A year's supply of growing up milk could set you back more than £230. For the full three years SMA is the most expensive at just over £700. And if you buy ready mixed cartons it's even more pricey. Our research found the most expensive is SMA with around £590 per year or just over £1,770 for three years.
But what about the health benefits? NHS dietician Sioned Quirke says they are not necessary for the majority of children, "Unfortunately we find that it's the majority of parents that don't need to be using them that are using them. So they see the adverts and think that's nutritionally better than milk I'll buy that for my child, but unfortunately they do tend to be the parents where their children have got a lovely healthy balanced diet and they think that that is going to add to it. It doesn't - you're wasting your money. Cow's milk is a great addition to a healthy balanced diet. It is really only under guidance that toddlers will require these types of milk."
Toddlers are encouraged to drink milk for that all important calcium. Every 100 ml of cow's milk has 122 milligrams of calcium, but when we looked at the toddler milks, they don't provide as much, with SMA as low as 78mg. In addition, the recommended daily servings of toddler milks are all higher in lactose, naturally occurring sugar, than cow's milk. Cow's milk has 14.1g. SMA is the highest again with 37g. Higher sugars aren't good for children's teeth either. Cow & Gate and SMA even have vanilla flavouring making the drinks taste even sweeter.
We asked all the brands we tested to give us their response. They point out that their products are a convenient and popular option - helping parents ensure children are getting the nutrients they need. They all say that price is not a fair comparison, and that their products all contain the required daily vitamins.
Nestle who make SMA say it's misleading to compare the price with cow's milk as they're not comparable products and children would need to take multivitamins with cow's milk to achieve the same level of nutrition. They all say their product provides more iron than cow's milk and that's important as 30% or small children may not have enough iron in their diet. They acknowledge that their products do have higher levels of sugar than cow's milk. But they point out that their product contains less protein - which they say is a good thing because high levels of protein is now being linked to childhood obesity. They don't deny that the formula is lower in calcuim, but they say that the Vitamin D in toddler milk helps children absorb the mineral.
Cow & Gate and Aptamil told us they pride themselves on offering the very best nutrition products tailored to meet the needs of children and Mums, as well as complying with strict legal standards. They say "The product's price reflects its more complex nutritional make-up, in comparison with ordinary cows' milk. Your figures do not take account of the cost of the vitamin supplements that are needed by children under 5 on cows' milk, nor the typical milk purchasing pattern of families with young children….Our powder product thus compares favourably in price against cows' milk plus multivitamins…our toddler milks do not contain any added sugar; they contain 100% lactose, the sugar naturally found in cows' milk….Toddler milks contain less fat (and specifically less saturated fat) than cows' milk... Toddler milks also contain around half the amount of protein than cows' milk; and there is emerging evidence to support a reduction of protein in young children's diets to prevent childhood obesity.
In a statement HiPP Organic told us that growing up milks can have a useful role to play in specific situations. The company statement says, "We believe that using growing up milks can help to increase intake of those other nutrients that are not so widely available in the UK diet, for example vitamin D and omega 3 fatty acids…. Cows' milk contains less 'sugar' (lactose, which is milk sugar which occurs naturally in all cows' milk products) than our growing up milk.  This is because we have significantly reduced the protein and fat content compared to those in whole cows' milk due to the evidence that a higher protein intake is linked to a higher risk of obesity… Our growing up milk contains less calcium that whole cows' milk, but it is nonetheless a very useful source of calcium in the diet….We refer to growing up milk as being nutritionally superior to cows' milk because it has higher levels of iron and other important vitamins and minerals such as vitamin D, which are an important part of the diet for children of this age."
Credits
| Role | Contributor |
| --- | --- |
| Presenter | Lucy Owen |
| Presenter | Rhodri Owen |
| Reporter | Rachel Treadaway-Williams |
| Series Producer | Susie Phillips |
| Participant | Sioned Quirke |