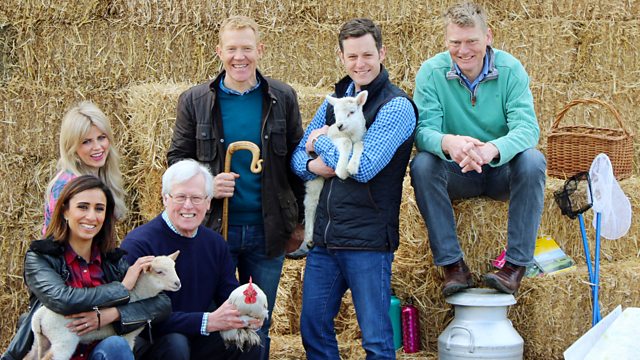 Abergavenny
The team are in Abergavenny, a town famous for its markets and its food. Matt Baker is looking at the history and heritage of the old mining town of Blaenavon, seeing how the old spoil heaps have become rich habitat for a surprising number of creatures. The spoil heaps have also been made into a world-class BMX bike trail - Matt takes on some local young people in a time trial. He also sees how one old pit is now producing cheese rather than coal.
Julia Bradbury is combining her love of food and art; she is at the Abergavenny Food Festival, where a group of artistically minded local people get together to make huge sculptures based on the food on show.
Julia also explores the Monmouthshire and Brecon canal, and joins the team of volunteers restoring the waterway and bringing it back to life.
Helen Skelton is in Scotland, meeting two of the contestants in this year's One Man and His Dog. John Craven heads to Essex to surprise the winner of this year's photographic competition - and to launch the Countryfile Calendar for 2014. Tom Heap is in Lincolnshire, investigating the criminal gangs behind widespread illegal hare coursing in the countryside.
Last on
Julia and the giant vegetables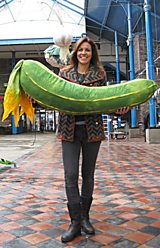 To the east of the Brecon Beacons lies the pretty market town of Abergavenny, home to the internationally renowned Food Festival. Now in its 15th year it is not just a feast for the mouth but a delight for the eyes too. Hanging in the market hall are giant vegetable sculptures, carefully crafted by local volunteers and inspired by the rich heritage of gardens, allotments and farms in Monmouthshire. Julia Bradbury helps put the finishing touches to these creations and has the daunting task of suspending a giant pumpkin from the roof.
Matt explores Blaenavon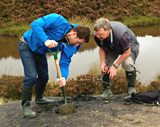 Blaenavon is a World Heritage Site like no other. Formally an area of large-scale iron production and coal mining, today only spoil heaps remain. Matt Baker explores this amazing landscape and, with the help of geologist Tom Sharpe, discovers what brought the ironmasters here. Former miner Des Harris shares his experiences of the coal mines and ecologist Steve Williams shows Matt some of the species that now call these spoil tips home. 
IMAGE: Matt with geologist Tom Sharpe
Tom investigates hare coursing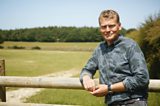 Now that the fields have been cleared by the harvest, illegal hare coursers are moving into the flatlands of the east of England. Since the bloodsport became illegal in 2005 criminal gangs have increasingly become involved in coursing and often use threats and even violence towards anyone who challenges them. Tom Heap goes on patrol with Lincolnshire police to find out what's being done to tackle the illegal hare coursers.
One Man and His Dog: The Scottish contenders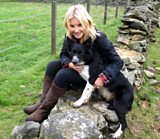 Helen Skelton meets the competitors representing Scotland in this year's BBC One Man and His Dog competition and they are going to be a tough team to beat.  Earlier this year, Ian Brownlie was named Supreme Champion at the International Sheepdog Trials at Stoneleigh Park. He is also the defending singles winner for One Man and His Dog. Young handler Rory Marshall is a relative newcomer to the sheepdog trialling scene but he has already gained a wealth of experience on his family's hill farm.  You can see how they get on when the contest is broadcast on BBC Countryfile on 27th October.
Matt's BMX challenge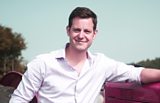 An area of old mining spoil in Blaenavon has recently been transformed into an exhilarating BMX track. Perfect for local children, it provides an area in which they can keep fit and healthy while avoiding other spoil areas that are suffering from erosion. Jason Carpenter, who built the track, teaches Matt the basics of BMXing. But will Matt beat the local children in a time trial?
Monmouthshire and Brecon Canal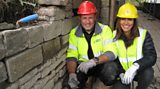 In the 19th Century the Brecknock and Abergavenny Canal, now part of the Monmouthshire and Brecon Canal, was a bustling waterway used to transport coal, iron ore and limestone from Blaenavon to the rest of the world. To reach the canal these products were loaded onto a specially-built tramroad that had to scale a mountain before descending incredibly steep slopes to its destination. Julia meets local artist Michael Blackmore to find out more about this area's past. The Monmouthshire and Brecon Canal is no longer navigable to Newport, but one section is being re-established. Julia joins a team of volunteers who have the challenge of restoring a 1.5km section - and placing a customised Countryfile brick! 
IMAGE: Julia with head stonemason Steve Price
Credits
| Role | Contributor |
| --- | --- |
| Presenter | John Craven |
| Presenter | Julia Bradbury |
| Presenter | Matt Baker |
| Presenter | Helen Skelton |
| Presenter | Tom Heap |
| Presenter | Adam Henson |
| Series Producer | Teresa Bogan |