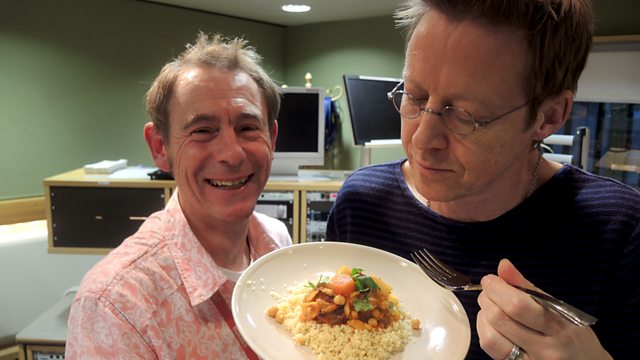 Foodie Thursday
Simon Mayo is joined by our resident chef Nigel Barden for another Foodie Thursday! Plus there's a brand new listener confession for the collective's conscience!
Matt has the sports news, Rebecca is on they money and Sally updates the travel.
Last on
The Ultimate Winter Couscous
Serves 4, or even more 
Prep time: 20-30 mins
Cooking time: 1hr
Ingredients
2 medium carrots, peeled & cut into 2cm chunks
2 medium parsnips, peeled & cut in 2cm chunks
8 shallots, peeled
2 cinnamon sticks
4 star anise
3 bay leaves
5 tbsp olive oil
1/2 tsp ground ginger
1/4 tsp ground turmeric
1/4 tsp hot paprika
1/4 tsp chilli flakes
300g pumpkin or butternut squash, peeled & cut into 2cm chunks
75g dried apricots, roughly chopped
200g chickpeas (canned or freshly cooked)
350ml chickpea cooking liquid &/or water
170g couscous
large pinch of saffron threads
260ml boiling vegetable stock
20g butter, broken into pieces
25g harissa paste
25g preserved lemon skin, finely chopped
30g coriander leaves
salt
Method
Preheat the oven to 190C/Gas Mark 5.   Place the carrots, parsnips & shallots in a large ovenproof dish.   Add the cinnamon sticks, star anise, bay leaves, 4 tbsps of the oil, 3/4 tsp salt & all the other spices & mix well.  Place in the oven & cook for 15 mins. Add the pumpkin, stir & return to the oven.  Continue cooking for about 35 mins, by which time the vegetables should have softened while retaining a bite. Now add the dried apricots & the chickpeas with their cooking liquid &/or water. Return to the oven & cook for a further 10 mins, or until hot. About 15 mins before the vegetables are ready, put the couscous in a large heatproof bowl with the remaining 1 tbsp olive oil, the saffron & 1/2 tsp salt. Pour the boiling stock over the couscous. Cover the bowl with cling film & leave for about 10 mins. Then add the butter & fluff up the couscous with a fork until the butter melts in. Cover again & leave somewhere warm. To serve, spoon couscous into a deep plate or bowl. Stir the harissa & preserved lemon into the vegetables; taste & salt if needed. Spoon the vegetables onto the centre of the couscous. Finish with plenty of coriander leaves.
Nigel's Top Tip
Feel free to substitute the veg, as butternut squash will happily stunt double for pumpkin & swede & turnips would do instead of carrots & parsnips.
Sprinkle some crushed root veg crisps on top, to give it a bit of crunch.
If you don't have preserved lemon skin, use preserved lemons.
Harissa is a hot fiery Tunisian sauce made with chillies, garlic, cumin, coriander, caraway & olive oil. It is the traditional accompaniment to couscous but can also be used to flavour soups & stews.
The Overall Most Popular Tracks
Most added tracks from this show