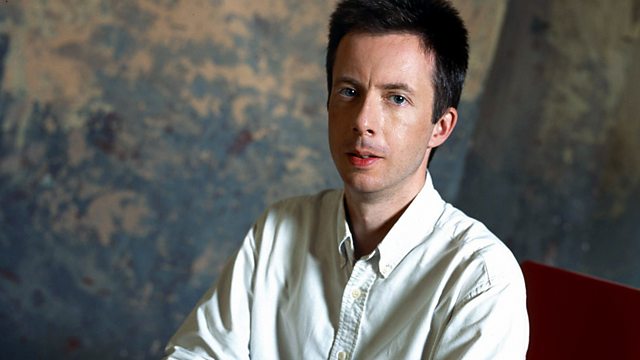 17/10/2013
Trio Wanderer play a programme of Mozart and Chausson from a performance in Copenhagen. John Shea presents.
12:31 AM
Mozart, Wolfgang Amadeus [1756-1791]
Trio for piano and strings (K.502) in B flat major
Trio Wanderer
12:52 AM
Chausson, Ernest [1855-1899]
Trio for piano and strings (Op.3) in G minor
Trio Wanderer
1:22 AM
Dvorak, Antonin [1841-1904]
Trio for piano and strings no. 4 (Op.90) "Dumky" - Vivace
Trio Wanderer
1:27 AM
Fauré, Gabriel (1845-1924)
Requiem, Op 48
Unknown soloists (organ, baritone, harp), National Philharmonic Choir of Bulgaria, Lyuba Pesheva (conductor)
2:01 AM
Poulenc, Francis (1899-1963)
Sinfonietta for orchestra
CBC Vancouver Orchestra, Mario Bernardi (conductor)
2:31 AM
Beethoven, Ludwig van (1770-1827)
Symphony No.2 in D major (Op.36)
Oslo Philharmonic Orchestra, Manfred Honeck (conductor)
3:03 AM
Czerny, Carl (1791-1857)
Sonata No. 9 in B minor (Op. 145) "Grande fantaisie en forme de Sonate"
Stefan Lindgren (piano)
3:37 AM
Castello, Dario (fl.1621-1629)
Sonata XVII in ecco
Musica Fiata Köln
3:45 AM
Sweelinck, Jan Pieterszoon (1562-1621)
O Domine Jesu Christe
Netherlands Chamber Choir and instrumental ensemble of three sackbutts and tenor shawm, Paul van Nevel (conductor)
3:52 AM
Nielsen, Carl (1865-1931)
Serenata in vano (FS.68)
Kari Krikku (clarinet), Jonathan Williams (horn), Per Hannisdahl (bassoon), Øystein Sonstad (cello), Katrine Øigaard (double bass)
3:59 AM
Nin (y Castellanos), Joaquín (1879-1949)
Seguida Espanola (1930)
Henry-David Varema (cello), Heiki Mätlik (guitar)
4:08 AM
Pandolfi Mealli, Giovanni Antonio (fl.1660-1669)
Sonata No.6 for violin and continuo 'La Sabbatina' (Op.3)
Andrew Manze (violin), Richard Egarr (harpsichord)
4:18 AM
Rachmaninov, Sergey (1873-1943)
Symphonic Dance No.1 (Op.45)
Bergen Philharmonic Orchestra, Andrew Litton (conductor)
4:31 AM
Fauré, Gabriel (1845-1924)
Pavane for orchestra (Op.50)
BBC National Orchestra of Wales, Grant Llewellyn (Conductor)
4:38 AM
Palestrina, Giovanni Pierluigi da (c.1525-1594)
Agnus Dei - super ut-re-mi-fa-sol-la
Huelgas Ensemble; Paul van Nevel (director)
4:46 AM
Chopin, Frédéric (1810-1849)
Barcarolle for piano (Op.60) in F sharp major
Ronald Brautigam (piano - Erard Grand of 1842)
4:54 AM
Albinoni, Tomaso (1671-1750)
Concerto in B flat
Ivan Hadliyski (trumpet), Kamerorchester, conductor Alipi Naydenov
5:03 AM
Glazunov, Alexander Konstantinovich (1865-1936)
Elegie in D flat major (Op.17) arranged for horn and piano
Mindaugas Gecevicius (horn), Ala Bendoraitiene (piano)
5:12 AM
Strauss, Richard (1864-1949)
Der Abend (Op.34 No.1) for 16 part choir
Danish National Radio Choir, Stefan Parkman (conductor)
5:22 AM
Auric, Georges (1899-1983) arr. Philip Lane
Suite from the film 'It Always Rains on Sunday'
BBC Philharmonic, Rumon Gamba (conductor)
5:36 AM
Grieg, Edvard (1843-1907)
Quartet for strings in F major
Vertavo Quartet
5:53 AM
Mozart, Wolfgang Amadeus (1756-1791)
Trio for piano, clarinet and viola (K.498) in E flat major "Kegelstatt"
Martin Fröst (clarinet); Antoine Tamestit (viola); Cédric Tiberghien (piano)
6:12 AM
Bach, Johann Ernst (1722-1777)
Ode on 77th Psalm 'Das Vertrauen der Christen auf Gott'
Rheinische Kantorei, Das Kleine Konzert, Hermann Max (conductor).
Last on