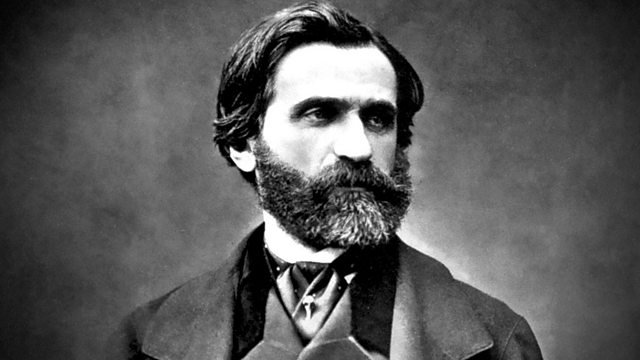 Verdi 200: Il trovatore
Verdi 200: Il Trovatore recorded at the Bavarian State Opera in Munich earlier this year with Jonas Kaufmann making his debut in the role of Manrico and Anja Harteros as Leonora. The production was by Olivier Py and drew a lot of criticism for its modern approach.
Jonas Kaufmann one of the world's leading tenors continues to expand his repertoire into some of the heavier Italian roles with Manrico, the troubadour of the opera's title. He's joined once again by one of his regular collaborators, the German soprano Anja Harteros, as Leonora, the subject of his affection.
Il Trovatore was one of Verdi's most successful operas even during his lifetime. In the three years following its premiere in 1853 it received more than 200 productions worldwide. And today it remains one of the most popular operas in the repertoire. He wrote it during a period which also saw the composition of Rigoletto and La Traviata, so by the time Verdi was forty he was at the height of his powers.
The story is sometimes parodied for the melodramatic and seemingly outrageous nature of some of the plot. Salvatore Cammarano wrote the libretto but died before its completion so Verdi found a new collaborator in the Neapolitan poet Leone Bardare.
Manrico is an enemy of the Count di Luna, a nobleman and soldier. They are also both in love with Leonora a noblewoman who returns Manrico's love. A gypsy, Azucena, is also the Count's enemy as his father killed her mother. She wants to avenge her mother's death so years before has abducted one of the Count's sons. This is Manrico who thinks that Azucena is his mother, though he learns she is not during the opera.
Manrico and Azucena are eventually imprisoned by the Count and Leonora offers to give herself to him to secure their release. However she takes poison and dies in Manrico's arms. When Di Luna finds her dead he orders Manrico's execution and he's taken away. Only then does Azucena tell Di Luna that Manrico was actually his brother.
Manrico.....Jonas Kaufmann (tenor)
Leonora.....Anja Harteros (soprano)
Count di Luna.....Alexey Markov (baritone)
Azucena.....Elena Manistina (mezzo-soprano)
Ferrando.....Kwangchul Youn (bass)
Inez.....Golda Schultz (soprano)
Ruiz.....Francesco Petrozzi
A Gypsy....Rafal Pawnuk
A Messenger.....Joshua Stewart
Bavarian State Opera Chorus
Bavarian State Opera Orchestra
Conducted by Paolo Carignani.
Last on