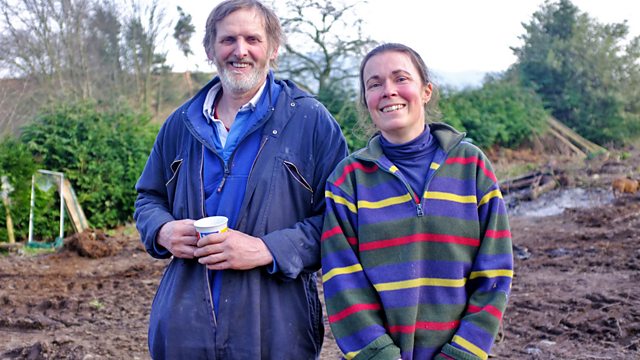 Architectural journalist Kieran Long and architect Piers Taylor are following self-builders as they take on the biggest gamble of their lives. Yet all of them have less than £100k to spend, little or no experience and have their life savings on the line - it will not be easy.
On the brink of retirement, Shropshire farmers Ruth and Tony are at the point in their lives when they hope to start taking life easy. However, faced with a crumbling farmhouse, they are having to knock it down - and they have ambitious plans to replace it with a determinedly modern design.
Their savings pot is just under £100k and, despite having no experience or expertise in housebuilding, the couple believe they can save money by handling every stage themselves, from laying the foundations to putting up the timber frame. Yet the budget quickly spirals out of control and an entire wing of the house is abandoned in order to keep their project afloat.
Kieran and Piers attempt to steer them in the right direction and avoid any further costly mistakes. Piers's experienced eye spots a whole lot of problems, not least the challenge of building a house that will fit into the surrounding landscape. However, Ruth is determined to stick a modern design over the exterior of the house - and risks creating an eyesore. Kieran takes Ruth to the Dungeness coastline to see examples of how weathered traditional materials for the exterior can also be contemporary. Can he persuade her to think differently and adopt a more rustic - and cheaper - cladding solution?
As the winter weather brings the build to a standstill, the couple find the demands of subsisting in a small caravan increasingly difficult, and they face making some tough financial decisions if they are to finish the house at all.
Last on
Episode 3 (Ruth and Tony) and Gas Cylinders
NOTE: The episode with Tony and Ruth featured a short section on the reuse of gas cylinders. However, we would remind viewers that the dismantling of gas cylinders in any way is dangerous and should never be attempted. We would also advise them that the cylinders remain the property of the company. We have now amended the programme.
Credits
| Role | Contributor |
| --- | --- |
| Presenter | Kieran Long |
| Presenter | Piers Taylor |
| Executive Producer | Annette Clarke |
| Series Editor | Joff Wilson |