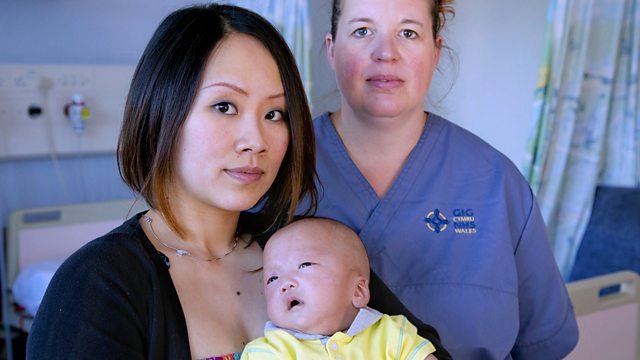 This episode follows the midwives at the University Hospital of Wales as they look after mums who need additional medical support and care.
Specialist midwife Sarah works in the antenatal day unit. Her patient, Lee, is 33 weeks pregnant and has been coming in to the unit for daily scans because her baby's growth has slowed down. Sarah's aim is to keep a close watch on Lee's baby and try to keep him in utero for as long as possible. A week later, Lee is admitted to hospital with signs of pre-eclampsia and the doctors and midwives have to act quickly.
Meanwhile, midwife Helen regularly does the rounds looking after poorly mums who have been admitted to different departments in the hospital. The show follows her on to the coronary care unit, where she visits Carly, who is 32 weeks pregnant with her third child. She has been admitted to hospital with extreme heart palpitations. Having had major heart surgery as a child, she is well known to the cardiac team and so is her mum Jackie, who has a particularly soft spot for one of the heart consultants. Carly was advised against having any further children and the midwives have to keep a very close eye on her as she attempts to have a natural delivery.
Also on midwife Helen's rounds is 35 year old Alison. She is also pregnant with her third child and has been in hospital for three weeks with a debilitating heart condition that one of the doctors describes 'as serious as it gets'. Alison is hoping that she can get to full term and have a natural birth but, as the weeks go by, the doctors have to weigh up the risks and decide whether it is safer to have a C-section. Whichever way they choose, managing Alison's delivery will require considerable medical support from both the midwives and the doctors.
Last on
Credits
| Role | Contributor |
| --- | --- |
| Narrator | Rupert Houseman |
| Director | Rosie Saunders |
| Producer | Rosie Saunders |
| Series Producer | Joanne Timoney |
| Executive Producer | Spencer Kelly |
| Executive Producer | Maxine Watson |
| Composer | John Lemke |
| Colourist | Liam Shanagher |
| Re-recording mixer | Hannah Fairclough |
| Production Coordinator | Nicola Hill |
| Production Manager | Jackie McKinney-Dyer |
| Director | Kate Walker |
| Producer | Kate Walker |