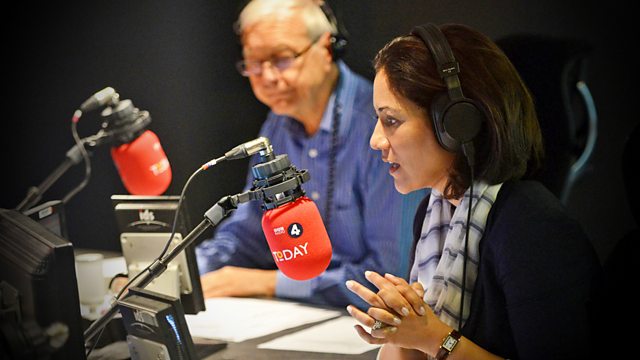 11/10/2013
News and current affairs. Including Sports Desk, Yesterday in Parliament, Weather, Thought for the Day.
Last on
Life Inside 'Islamic State': Diaries
In today's programme
This page will be live during Friday's programme.
Today's running order

Subject to change



0615

Business news with Simon Jack on news that Royal Mail shares, priced at 330p, are due to begin conditional trading and investors are keen to see if their value will rise. Plus the Today programme's Friday boss is Luke Johnson, one of the founders of Centre for Entrepreneurs.

0709

Investors who have bought shares in Royal Mail will find out if their shares rise in value when trading begins this morning. General Secretary of the Communication Workers Union Billy Hayes discusses the privatisation of Royal Mail.

0715

Hopes rise for a breakthrough in the political impasse crippling Washington after "constructive" talks between Obama and top Republicans on a short-term fix to stave off a debt default. Democrat strategist Steve Elmendorf and Sal Russo from the Tea Party Express campaign group discuss how officials have warned the US risks default on 17 October if the nation's borrowing limit is not increased.

0720

In the run-up to the country's leading literary prize, the Man Booker, we hear from all six shortlisted authors. The judges have described this year's list as the most diverse ever, with an exceptionally international feel for subjects and authors scattered across the globe. Writers Jhumpa Lahiri and NoViolet Bulawavo talk to arts correspondent Rebecca Jones about why they have chosen to write about their countries of origin.

0725

Business news.

0730

In 2011, 17 to 24 year olds drove 5% of all the miles driven in UK, but were involved in 20% of serious accidents.

0735

Royal Mail is not the first UK company to be privatised - the trend started back in the 1980s. Business reporter Jonty Bloom looks back at how these have fared - and why setting a price for shares is not always straightforward.

0740

Astronomers have found evidence of Earth-like planets beyond our solar system. Dr Jay Fahiri from the Institute of Astronomy at Cambridge explains how habitable conditions may exist beyond the sun's orbit.

0747

Thought for The Day with Lord Harries of Pentregarth.

0750

The kidnapping of Libyan PM Ali Zeidan has focused attention on the security situation in Libya, with many questions asked about how he could have been abducted with apparent ease from a hotel in Tripoli. French philosopher Bernard-Henri Lévy explains how little effort seems to have been made to build the institutions of the new Libya.

0810

Royal Mail shares start conditional trading for the first time and institutional investors will be able to buy and sell the shares they own in the company. Today business presenter Simon Jack reports from the City of London, and Vince Cable, Business Secretary, defends the privatisation.

0822

According to the publishers Penguin, Morrissey's new autobiography is a classic work of literature and they are publishing it in their Penguin Classics canon. Erica Wagner, former literary editor of the Times, and Gavin Hopps, who wrote a book about Morrissey, discuss whether the book should be on the same pedestal as the works of Aristotle, Austen Jane and Aristophanes.

0833

Two of the British detainees seized by the Russian authorities from the Greenpeace ship involved in a protest in the Arctic are appearing in court this morning. Russell Bryan, brother of Kieron Bryan, who tried to board an oil platform owned by the Russian oil giant Gazprom, and Sergey Golubok, a lawyer for Greenpeace International, discuss the trial.

0839

The conference of Plaid Cymru starts in Aberystwyth today. With lots of attention now on Scotland, with its referendum on independence next year, Leader of Plaid Cymru Leanne Wood, examines whether there are lessons or implications for Wales.

0842

Business news with Simon Jack on news that the government has announced proposals to overhaul how corporate crime is reported and investigated, moving to a US-style system that provides financial incentives to whistle-blowers.

0845

Royal Mail is not the first UK company to be privatised. Business reporter Jonty Bloom looks back at how back at how other privatised companies have fared - and why setting a price for shares is not always straightforward.

0849

Women and girls with autism often go undiagnosed because it is typically seen as a male condition, and they are also more likely to be misdiagnosed, according to the National Autistic Society. Author of the study, Robyn Steward, outlines the findings.



See more live updates