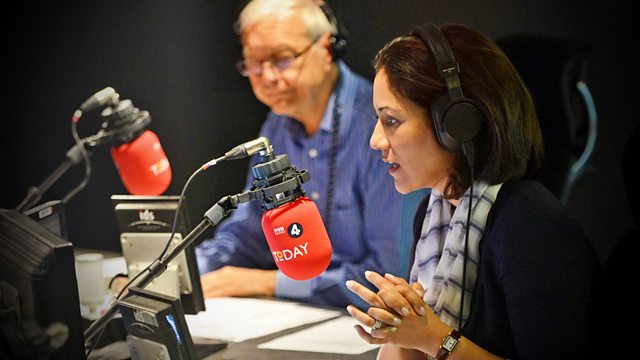 07/10/2013
Morning news and current affairs. Including Sports Desk; Weather; Thought for the Day.
Last on
Life Inside 'Islamic State': Diaries
In today's programme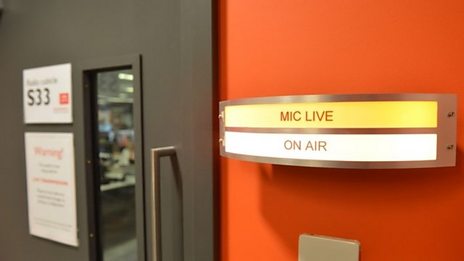 With Mishal Husain and John Humphrys.
Listen again

You can hear clips from this morning's programme below:




Papers

Here's a round-up of this morning's newspaper headlines:




Today's running order

Subject to change




0615

Business with Simon Jack including how the US shutdown is affecting international trade relations. Plus the London Metals Exchange is this week playing host to around 500 key players from the metals trading industry.

0709

Two Conservative members of the government have quit amid speculation of an imminent ministerial reshuffle. The BBC's political editor Nick Robinson gives his analysis.

0712

One of America's most wanted terrorist suspects is in custody today after a US raid in Libya. Abu Anas al Libi is said to have parking his car in Tripoli when he was surrounded by US troops assisted by FBI and CIA agents. Seth Jones, a former US Army adviser on special operations and the author of a book on Al Qaeda, explains how important Al Libi is to the Americans.

0715

Business news with Simon Jack.

0718

The Conservative MP for Windsor is facing accusations of disloyalty after threatening to table an amendment to the party's EU Referendum Bill. Adam Afriyie explains that he wants the vote to take place before the next election, and James Wharton, a Conservative MP, explains why the leadership is planning the referendum for 2017.

0733

Malala Yousafzai, the teenager who was shot in the head by the Pakistani Taliban, has told the BBC there should be talks with the militants to try to end the violence in her country. The Today programme's Mishal Husain reports.

0742

The paper review.

0745

New research from Royal Holloway University has cast light on how stressed-out honey bees can cause whole colonies to fail. Dr Nigel Raine, one of the researchers, says that this is the first time we have linked stress to colony failures.

0748

Thought for the Day with Canon Dr Alan Billings, an Anglican priest.

0752

A new body to tackle some of the UK's most serious crimes has been launched. Keith Bristow, Director-General of the NCA and former Chief Constable of Warwickshire Police, outlines how the agency will operate.

0810

One year ago, schoolgirl Malala Yousafzai was shot in the head by Taliban gunmen – her apparent crime was to have spoken up for the right of girls to be educated. The Today programme's Mishal Husain speaks to Malala about the importance of girls' right to an education and addressing the United Nations on her 16th birthday.

0821

Overtly political theatre is experiencing something of a revival. James Graham, author of This House and Tory Boyz, and Moira Buffini, playwright and screenwriter, explain the current fashion for political plays.

0832

The charity Leonard Cheshire Disability says homecare needs of the elderly and disabled cannot be properly met in 15 minutes that are allocated and it is calling for the time slots to be scrapped. Clare Pelham, chief executive of Leonard Cheshire Disability, and Sandie Keene, president of the Association of Directors of Adult Social Services, debate whether the use of time slots are necessary.

0839

Business news with Simon Jack.

0844

With plans afoot to move the football World Cup to the winter in 2022, escaping the blistering heat of the Qatari summer, the Today programme has been hearing how other iconic summer events might fare if moved to the colder, darker months. BBC 6Music presenter Shaun Keaveny imagines a change to the Glastonbury music festival.

0846

Syrian President Bashar al-Assad's regime deserves credit for complying with a chemical weapons deal, US Secretary of State John Kerry said, speaking after international monitors confirmed the destruction of Syria's stockpile had begun. Hamish de Bretton Gordon, a former commander of Britain's specialist chemical weapons defence unit, outlines how the process will proceed.

0849

One of Britain's most senior police officers has spoken of his "frustration" at the amount of time spent dealing with people with mental health problems. Sir Peter Fahy, chief constable of Greater Manchester, explains that this is now the main issue facing Britain's police forces.
See more live updates