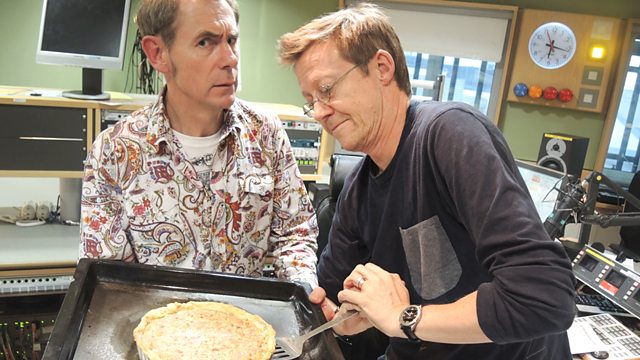 Foodie Thursday
It's another Foodie Thursday on drivetime and Nigel Barden cooks up a treat! Plus there's a brand new confession for the team to consider!
Matt has the sports news, Rebecca is on the money and Sally updates the travel.
Last on
Italian Fruit & Nut Tart From a Simon Hopkinson recipe
Serves 4
Prep time 30 mins
Cooking time 45 mins
Ingredients
200g ready-rolled, all-butter puff pastry
100g butter, softened, plus a little extra
75g caster sugar
125g ground almonds
50g plain flour
1 large egg (a large duck egg, in fact, would be perfect here)
grated zest of 1 orange
grated zest of 1Ž2 lemon
a little grated nutmeg
1 tbsp Marsala
1 tbsp Limoncello
60g crystalised orange peel (bought already chopped)
60g plain chocolate 
40g pine kernels
1 little icing sugar
cold, thick cream, to serve
20 x 3cm tart tin.
Method
1.Roll the pastry out a little more thinly & with it line a 20 x 3cm, well-buttered tart tin.
2.Trim the pastry edge, but leave it slightly raised above the rim of the tin, as it will shrink a little during the cooking.
3.Also, prick the base of the pastry all over with a fork.
4.Place in the fridge to rest until the filling is ready. (There is no need to bake the pastry blind for this recipe).
5.Preheat the oven to 190C/gas mark 5; also have a flat baking tray ready in the oven, too, which will help to cook the base of the pastry.
6.Electrically beat together the butter & caster sugar until really light & fluffy; about 5 mins beating on full speed.
7.Turn down the speed a little & briefly beat in the ground almonds & flour until blended in, then beat in the egg as well.
8.Using a rubber spatula, fold in the 2 zests, nutmeg, Marsala, Limoncello, orange peel & chocolate chips (do not add the pine kernels yet).
9.Remove the tin from the fridge & fill with the almond paste mixture.
10.Sprinkle over with the pine kernels.
11.Slide into the oven, on to the preheated oven tray, & bake for 5 mins.
12.Turn the heat down to 180C/gas mark 4 & bake for a further 30-35 mins, until the filling has puffed up, the pine kernels are golden & the whole thing smells divine.
13.Remove the tart, dust with sifted icing sugar, then return to the oven for 2-3 mins until the sugar has slightly glazed.
14.Leave to cool for about 15 mins then remove from the tin.
15.Best eaten warm with cold, thick cream.