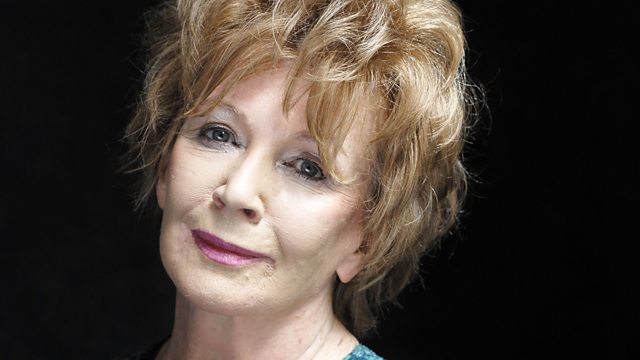 Edna O'Brien; Campus sexual politics; Flat shoes
Listen in pop-out player
Edna O'Brien on her new collection of short stories written over 50 years - The Love Object: Selected Stories.
We discuss sexual politics on campus with Kelley Temple from the National Union of Students and Megan Clark, student and blogger from Nottingham University.
What do we say to women who want children but are unable to have them? Jane Garvey talks to psychotherapist Jody Day about her grief for the children she would never have, the reaction of others, her blog, and support group Gateway Women.
And flat shoes and boots - fashion historian Amber Butchart and Alice Revel, editor of the online magazine Running in Heels, discuss what to wear this autumn and winter.
Last on
Sexism On Campus
'Pimps and Hoes' and 'Slappers and Rappers' are typical themes for parties that have been staples of university freshers' weeks. But this year many student unions have been running "stamp out sexism campaigns". How misogynist is campus culture and what can be done to improve the situation? We speak to Kelley Temple the NUS Women's Officer and to Megan Clark about her experiences as a student at Nottingham.
Childlessness And Grief
What do we say to women who want children but are unable to have them? 'Never mind, at least you can still have a lie in', or 'There's still time, I had a friend who had her first baby at 53.' Jody Day is childless by circumstance and she found these comments thoughtless and upsetting. She was unable to find anyone she could share her feelings with and so she started to blog about it. Women from across the world contacted her to share their experiences, not only of the grief of childlessness, but also the lack of empathy from the people around them. Jody retrained as a psychotherapist and now runs a support group, Gateway Women, and has written a book 'Rocking the Life Unexpected'.
Irish Novelist Edna O'Brien
The Love Object: Selected Stories is thge latest publication from Edna O'Brien which spans 50 years of her writing life. Since her first, famous novel, The Country Girls, she has published 30 more books - mostly fiction, but also plays, biographies and a memoir, and received many prestigious awards. In this new collection there are several stories set in the Ireland of her childhood, but there are many other themes and settings too.
The Return Of The Sensible Shoe This Autumn
This Autumn, sensible, flat shoes and boots are making a come-back in fashion. Biker boots, Dr Martens and Chelsea Boots are dominating the shelves of our favourite high street shops. Fashion historian Amber Butchart and Alice Revel, editor of the online fashion, life style and current affairs magazine Running in Heels offer advice about the best footwear to buy this season.
New Breast Cancer Research Report
Today, to mark the beginning of Breast Cancer Awareness month, a landmark new research report has announced that with the right investment, 185 000 lives could be saved by 2030, and the disease could be eradicated in 40 years. The research report, by the charity Breast Cancer Campaign, has identified ten gaps in breast cancer research. And they say if these gaps can be addressed, and overcome with greater focus and investment, then all these lives could be saved. Baroness Delyth Morgan, Chief Executive of Breast Cancer Campaign, joins Jane to talk through the findings, and to explain what this means for future breast cancer diagnosis and treatment.
Credits
| Role | Contributor |
| --- | --- |
| Presenter | Jane Garvey |
| Interviewed Guest | Edna O'Brien |
| Interviewed Guest | Kelley Temple |
| Interviewed Guest | Megan Clark |
| Interviewed Guest | Jody Day |
| Interviewed Guest | Amber Jane Butchart |
| Interviewed Guest | Alice Revel |
| Producer | Steven Williams |