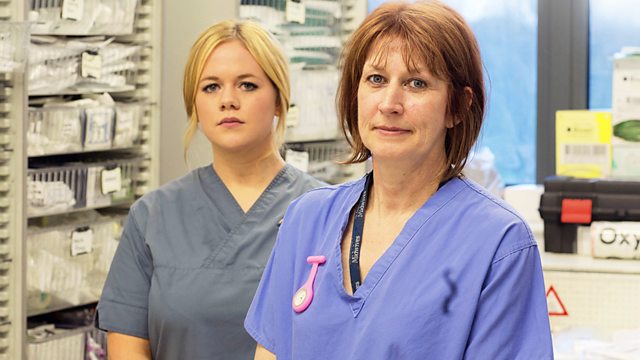 This episode features the midwives at the University Hospital of Wales in Cardiff - home to the busiest labour ward in Wales. Like many maternity units across the UK, Cardiff's midwives have seen the number of pregnant women asking for epidurals double over the last 20 years. Only a quarter of those women go on to have natural unassisted deliveries.
It seems we are a nation dependent on pain relief. However, some mums like 20-year-old Leah are determined to have a natural delivery using only gas and air, whilst some like Emma want to take the natural approach even further relying only on the soothing affects of the birthing pool for pain relief. For our midwives Sian and Cara the 'perfect birth' is never straightforward and Emma's baby 'Gryff' has a real surprise in store.
Meanwhile, mum Kayleigh can not seem to tell if she is in labour or not. She has three false alarms but when it is fourth time lucky the midwives can not give her an epidural due to an existing medical condition. As a result, she has just thirty minutes to deliver her baby naturally - and for midwife Amie it is a race against time.
Ukrainian Midwife Tatiana believes that 'pain is a state of mind'. She reveals a few of her tricks of the trade when dealing with mum Chelsea who is anxious after a tricky first birth. Her hands-on technique raises a few eyebrows, not least from dad Shaun - but will it keep Chelsea calm during her natural delivery?
Last on
Credits
| Role | Contributor |
| --- | --- |
| Narrator | Rupert Houseman |
| Director | Stuart Mitchell |
| Producer | Stuart Mitchell |
| Series Producer | Joanne Timoney |
| Executive Producer | Spencer Kelly |
| Executive Producer | Maxine Watson |
| Composer | John Lemke |
| Colourist | Liam Shanagher |
| Re-recording mixer | Hannah Fairclough |
| Production Coordinator | Nicola Hill |
| Production Manager | Jackie McKinney-Dyer |