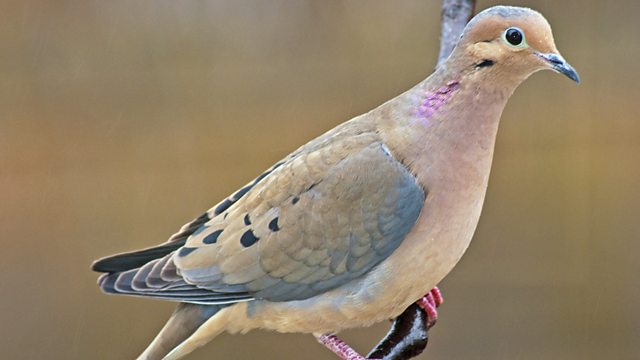 Mourning Dove
Listen in pop-out player
Tweet of the Day is a series of fascinating stories about the British birds inspired by their calls and songs.
Wildlife Sound Recordist, Chris Watson, presents the Mourning Dove. On a November evening at the end of the last Millennium, Maire MacPhail looked through the window of her home on the island of North Uist in the Outer Hebrides to see an odd pigeon sitting on the garden fence. It looked tired, as well it might have done, for it turned out to be only the second mourning dove to occur naturally in the British Isles.
The sound archive recording of the mourning dove featured in this programme was sourced from :
Andrew Spencer, XC109033. Accessible at www.xeno-canto.org/109033.
Last on
Mourning Dove (Zenaida macroura)
Image courtesy of Getty Images.
Audio of Mourning Dove recorded by Andrew Spencer (Xeno-Canto)
The audio archive of the Mourning Dove featured in this programme was recorded by Andrew Spencer and was sourced via Xeno-Canto.org.
Ref: Andrew Spencer, XC109033 / Access at www.xento-canto.org/109033
Used under the licence terms: CC By-NC-SA 3.0
Featured in...
A selection of progammes and soundscapes featuring sound recordist Chris Watson.