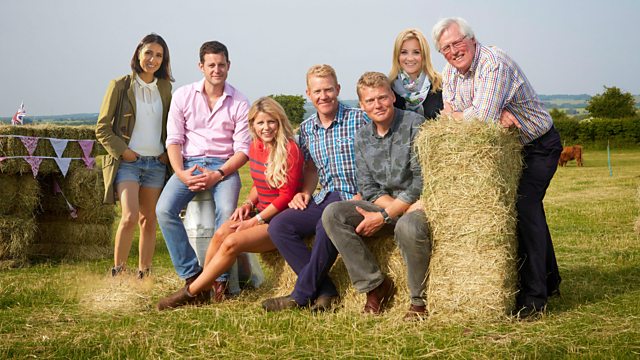 Dorset
Ellie Harrison and Matt Baker are in Dorset for the Great Dorset Steam Fair. It is the biggest steam gathering in the UK, and Matt goes behind the scenes meeting the enthusiasts keeping the boilers stoked and wheels oiled.
In an echo of Dorset's agricultural past Ellie spends time with a Romany gypsy family. They were once the main seasonal workforce, but now there are few left living the old life. She then meets the lady bringing a bit of tropical heat to Dorset's rural byways, before throwing down the gauntlet to Matt back at the Steam Fair.
Julia looks at the efforts being made to help small furry animals cross one busy Kent road. Jules Hudson is in Wales' Elan Valley to find out the part played by its reservoirs in the Dambusters raids. And Adam looks at the threat to livestock from nuisance dogs.
Last on
Matt goes full steam in Dorset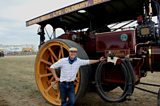 Matt Baker visits the Great Dorset Steam Fair, one of the biggest steam shows in the world, on its 45th anniversary. He joins steam enthusiast John Wakeham to find out about the history of steam and how it changed the countryside. John also allows Matt to perform a wheelie in his precious engine! Then, after trying his skills on a steam-driven plough, Matt becomes an engine apprentice and trains to steer one of the fair's biggest ever loads uphill. Will he make it? Finally Ellie drives a show-stopping machine into the arena – and gives Matt a big surprise.
Ellie and the Romany Gypsies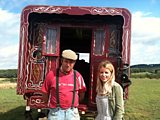 Romany Gypsies are the biggest ethnic minority in Dorset. Until the 1960s they would travel southern England picking up seasonal farm work and camping in farmers' fields. Now many have been resettled and are reclaiming their history and teaching it to the next generation. Ellie Harrison travels with a Gypsy family in a traditional horse-driven caravan, or Vardo, and meets John Bond, a Romany Gypsy who remembers working the land.
IMAGE:  Ellie with Lee Hughes and his Vardo
Dogs and livestock
This week on Countryfile, Adam Henson discovers that livestock worrying by domestic dogs is a serious and growing issue in the UK. He visits a farmer in Somerset whose flock is regularly harassed by dogs, sometimes with desperate consequences. Adam also interviews a police sergeant to find out how seriously the police are treating the attacks. Adam then joins a dog group who take their dogs for some specialist training that prepares them for walks in the countryside.
Ellie gets a taste of the Caribbean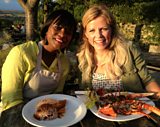 Ellie meets Cynthia Coppack, who has brought the culinary delights of her hometown - Kingston, Jamaica – to the rural village pub she runs in Kingston, Dorset. Cynthia sends Ellie to gather some ingredients from local growers and teaches her how to use them to make a jerk marinade. Ellie joins Cynthia and her family for a Reggae party at Cynthia's pub. She helps Cynthia cook food Jamaican-style at her jerk shack in the beer garden, overlooking Corfe Castle.
Credits
| Role | Contributor |
| --- | --- |
| Presenter | Matt Baker |
| Presenter | Ellie Harrison |
| Presenter | Adam Henson |
| Presenter | Jules Hudson |
| Series Producer | Teresa Bogan |