Arthur Miller's All My Sons; A Real Birmingham Family; Fiona Doyle
Arthur Miller and his roles for women - Dona Croll talks about starring in a new production of All My Sons at the Royal Exchange Theatre in Manchester. Two single mothers discuss how they and their children are the inspiration for a new statue by Gillian Wearing called 'A Real Birmingham Family'. Fiona Doyle talks about being sexually abused by her father. Presenter: Jenni Murray.
Last on
All my sons
This week, a new production of All My Sons opens at the Royal Exchange Theatre in Manchester. It's a play that provides one of Arthur Miller's most iconic roles for a woman – Kate Keller, a mother who takes on the burden of her family's grief. She is unable to accept that her eldest son is probably dead [missing in action for over three years] and she has to help her husband Joe conceal a terrible secret. Actress Doňa Croll, also known as Vera Corrigen in the BBC soap opera Doctors, is playing Kate and she joins Jenni to talk about the role. They are joined by Sarah Churchwell, Professor of American Literature at the University of East Anglia, to discuss Arthur Miller's female characters.
All My Sons is a Talawa Theatre Company production. Talawa is Britain's primary Black led theatre company.
Don Warrington – playing the part of Joe Keller – is interviewed on BBC Radio 3's The Verb on 3rd October.
'A Real Birmingham Family'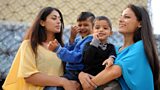 Two sisters & their children have been chosen to represent A Real Birmingham Family in the form of a new city-centre sculpture by artist Gillian Wearing.  Emma & Roma Jones were chosen from over 370 Birmingham families taking part in a three year project led by Ikon which asks what it means to be a family today.  The statue will be unveiled outside the new Library of Birmingham in 2014.  Emma & Roma Jones join Jenni to explain how they feel about being immortalised in bronze. They are also joined by Dr Elizabeth Yardley, Senior Lecturer in Sociology at  Birmingham City University to discuss how families define themselves in the 21st century.
Oxytocin Pilot Trial
A synthetic version of the hormone oxytocin is often given to women delayed in labour. Produced naturally by the body, it causes the muscles of the uterus to contract and gets the cervix to dilate. The current standard dose is known to shorten labour but recent peer review has suggested that a higher dose of oxytocin could help more women to give birth vaginally and avoid a C-section or forceps delivery. The Royal College of Obstetricians and Gynaecologists has prioritised this as an important area for research and in a recent pilot trial, the processes to run a large trial have been developed. Dr Sara Kenyon, Senior Lecturer in the School of Health and Population Sciences at the University of Birmingham, joins Jenni to talk about the challenges of recruiting women in labour to take part in medical trials and explains why this is an important piece of research.
Royal College of Obstetricians and Gynaecologists
School of Health and Population Sciences at the University of Birmingham
Fiona Doyle
On the 21st January this year, 72 year old Patrick O'Brien was sentenced to 12 years in an Irish prison having pleaded guilty to raping his daughter over a 10 year period. The case had already become a huge story in Ireland not only because of the shocking nature of O'Brien's behaviour but because of the bravery of his daughter, Fiona O'Brien, in bringing her father to court and waving her right to anonymity. But her victory was followed by controversy when the judge suspended the final 9 years of her father's sentence and released him on bail pending an appeal - citing his age and health problems as reasons for his leniency. The Irish press and social media was outraged, questions were asked in the Dail and there was widespread demand for a reform in Irish law and stricter sentencing guidelines. Three days later, shocked at the public outcry, Justice Carney hauled O'Brien back to court and revoked his bail admitting that the procedure he had adopted in sentencing had been inappropriate. He also made a fulsome apology to Fiona for the stress he caused her. Fiona has now written her memoires and joins Jenni from Dublin.
Fiona Doyle's book – Too Many Tears – is available from online retailers.
Tandems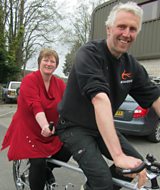 Cycling is booming like it hasn't for years.  At the weekends we've seen a noticeable increase in  lycra clad figures of both genders  spinning  along  our  roads  but it still remains a rare  sighting  to spot  a tandem -  a man and a woman pedalling together in synchronised harmony. But they are becoming more popular too.   So does double the pedal power mean double the fun? And are there gender politics at play on the bicycle made for two? Ruth Hargreaves and her husband John have been an item for 24 years and riding a tandem for almost as long. They run a tandem shop in Gargrave in the Yorkshire Dales and Caz Graham went to meet them.
Credits
| Role | Contributor |
| --- | --- |
| Presenter | Jenni Murray |
| Interviewed Guest | Dona Croll |
| Interviewed Guest | Fiona Doyle |
| Producer | Helen Lee |