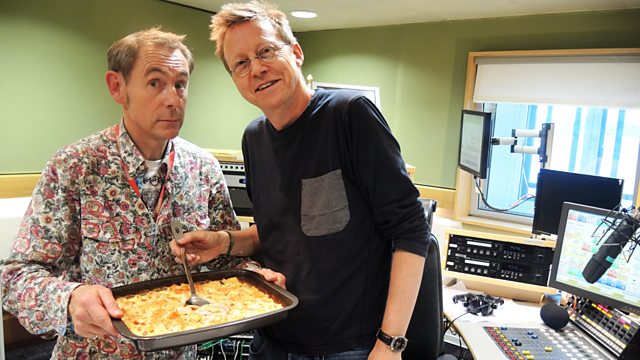 Foodie Thursday
It's another Foodie Thursday on drivetime and chef Nigel Barden cooks up another delight! Plus there's a brand new confession for the team to consider
Matt has the sports news, Rebecca is on the money and Sally updates the travel.
Last on
Nigel's Root Vegetable Gratin
Root Vegetable Gratin
by Rachel Allen from Rachel's Everyday Kitchen (Harper Collins) 
There is an open secret to making gratins taste divine – adding cream & plenty of it!
I like to combine carrots, parsnips & celeriac for their distinctive flavour & contrasting colours.  Serve as a rich accompaniment to roast chicken or with grilled or roast lamb; it also makes a delicious meal in itself. 
Serves 6-8 as a side dish (4 as a main) 
Prep time: 20 mins
Cooking time: 1hr 
Ingredients
600g (1lb 5oz) carrots, peeled (450g/1lb peeled weight)
600g (1lb 5oz) parsnips, peeled (450g/1lb peeled weight)
600g (1lb 5oz) celeriac, peeled (400g/14oz peeled weight)
500ml (18fl oz) double or regular cream
250ml (9fl oz) milk
3 cloves of garlic, peeled & crushed or finely grated
Salt & freshly ground black pepper
25g (1oz) butter, diced
20 x 30cm (8 x 12 in) ovenproof dish
Method
1. Preheat the oven to 200C (400F) / gas mark 6.
2. Slice the carrots, parsnips & celeriac into bite-sized rounds or pieces about 3mm (⅛ in) thick, then mix together in a large bowl.
3. Pour the cream & milk into a large saucepan & add the garlic.
4. Place on a medium heat & bring to a simmer, then pour the hot liquid over the vegetables & mix together thoroughly.
5. Season with salt & pepper & tip the mixture into the ovenproof dish.
6. Cover with foil, then place in the oven to bake for 40 mins.
7. Take the dish out of the oven & remove the foil.
8. Dot the vegetables with the butter & bake for a further 20 mins or until the vegetables are tender & golden on top.
9. Remove & serve immediately.
Today's Most Popular Tracks
Most added tracks from this show