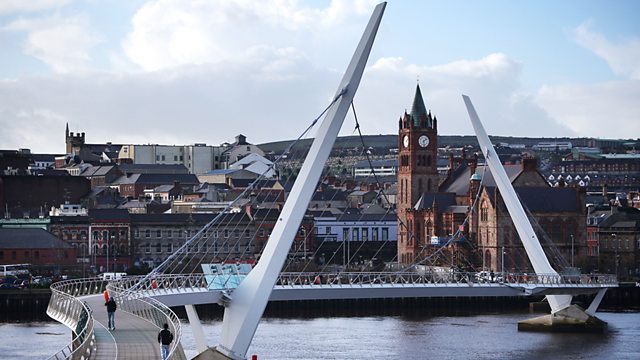 UK City of Culture 2013
Eamonn Holmes is in Londonderry for the world's largest gathering of Irish culture, as the All Ireland Fleadh fills the city's streets with music and song. And congregations join to sing hymns of praise at the Guildhall.
Last on
BBC One
Channel Islands,

HD,

London,

North East & Cumbria,

Northern Ireland HD,

Oxfordshire,

Scotland HD,

Wales HD

only
Factsheet for Sunday 15th September 2013
Eamonn Holmes is in Londonderry for the world's largest gathering of Irish culture, as the All Ireland Fleadh fills the city's streets with music and song. And congregations join to sing hymns of praise at the Guildhall.
Interviewees
Return of Colmcille - Frank Cottrell Boyce
Fifteen hundred years ago, in the wake of a terrible battle, full of remorse, St. Colmcille left Ireland for Scotland. On the remote island of Iona he began a new life and helped create a new world. The beautiful manuscripts he and his followers produced helped spread not only Christianity but ideas about literacy, peace-making and nation-building, not to mention punctuation! His followers became missionaries, builders, teachers. It's no exaggeration to say that these men from the North of Ireland rebuilt Europe.  On top of all that, legend has it that Columba had a fight with the Loch Ness monster and won!
The Return of Colmcille event was written by Frank Cottrell Boyce who also wrote the now-famous Opening Ceremony of the London 2012 Olympic Games.
A full list of events that will take place over the remaining months of Derry~Londonderry City Of Culture 2013 can be found on the official website.
Iconography
Dick Sinclair was born in Derry and graduated in fine art from the then Belfast College of Art, he worked variously in bookshops, taught very briefly and worked for a long time as a designer, based in the Central Library in Derry. 
For approximately the last twenty years he has made images, icons, for use in prayer.  These images are based on the Orthodox Christian tradition of iconography, a tradition coming from the early years of the church and as such a common heritage for all Christians. Although it must be said that it is the Orthodox community who have preserved, valued and fostered this tradition. 
He studied with a number of Iconographers before discovering Eva Vlavianos a distinguished Greek Iconographer and restorer of icons whom he has studied with for the last fifteen years.
Columba Canticles
To celebrate the 400th anniversary of this Promise Chalice being sent from the City, "Four Centuries of Song", featuring the first public performance of a new oratorio, Columba Canticles was performed at St Columb's Cathedral in Derry.
Columba Canticles is a celebration of the human spirit featuring a specially commissioned score by Laurence Roman.
The choirs of the Universities of Ulster and Aberdeen combine with the London Southbank Sinfonia for this exciting world premier.
Columba Canticles weaves a dazzling tapestry of music and verse celebrating 400 years of Derry's richly joyous, yet volatile history.
In setting Londonderry writer Sam Burnside's award-winning cycle of poems, Roman's exuberant oratorio explores 21st century spirituality in all its freshest, most vibrant colours. The Church is cast as a mighty crucible in which the soul of humanity blazes brightly.
Sam Burnside
Born near Ahoghill, County Antrim, Burnside has lived and worked in Derry for some 30 years, working initially as a tutor in literature and an adult education organiser with the Workers Educational Association.

As an advocate for the place of creativity and imagination in community life, he founded and was the first director of the Verbal Arts Centre, an educational charity set up to promote literature in all its forms. The Verbal Arts Centre was established in the listed former First Derry Primary School, which was extensively refurbished under Burnside's leadership, receiving a Civic Trust and DOE Conservation awards.

His poetry and prose has been published and broadcast widely. He is the author of The Cathedral (1989), a long poem that won the Sunday Tribune/Hennessy Literary Award for Poetry in that year. His work has attracted a number of literary prizes, including an Allingham Poetry Prize; the University of Ulster's McCrea Literary Award for Literature and a Bass Ireland Award.
Locations
All hymns were performed in The Guildhall, Derry.
Performances
'How Can I Keep from Singing' performed by Margaret Keys.
'City of God' performed by St Patrick's Primary School.
Credits
| Role | Contributor |
| --- | --- |
| Presenter | Eamonn Holmes |
| Producer | Carole O'Kane |
| Series Editor | David Taviner |
| Executive Producer | Tommy Nagra |
Songs of Praise is on tour this summer and we need you!
Songs of Praise is on Twitter