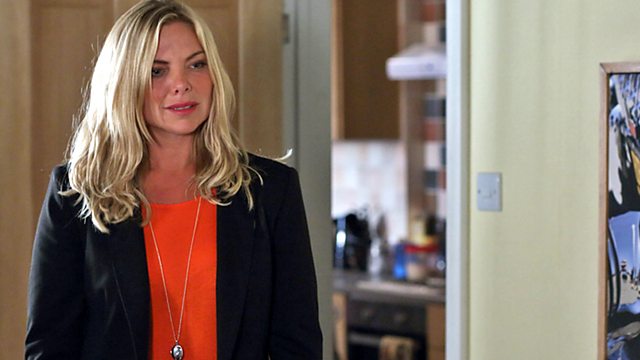 16/09/2013
Upset that Phil left Ronnie in charge, Lola doesn't want Lexi to visit him in hospital. Billy cannot leave work to take her himself so Lexi stays with the child minder. But when Lola and Billy don't answer their phones, the child minder leaves a poorly Lexi with Ronnie, confusing her with Sharon. The prospect of looking after a child leaves Ronnie shaken. Lola rushes to the house when she finds out; worried what Ronnie might do. But when she sees her comforting a crying Lexi, Lola realises Ronnie is harmless. A waiting Phil realises no one is bringing Lexi.
Having spent the night together, Ronnie and Jack go to work. Michael continues to interfere, causing Jack to confront him. Michael and Janine find some common ground as they both think it is better that Scarlett is kept away from Ronnie.
Jean is saddened by Ollie's departure without saying goodbye. But when Ollie appears in the Vic's kitchen, she cannot bear to say goodbye and flees to the toilets. Through the door, Ollie apologises and declares his love, begging her to move to Brighton with him. When Kat confronts Ollie about his actions, Jean loses her temper. Kat tells her how much she is loved here and Jean realises how much Kat needs her. She tells Ollie she cannot go and cries her way back to the kitchen.
Lauren and Abi clash over Max's innocence and whether to tell Tanya where he is. Struggling with Max's growing legal fees, they debate whether to help him, considering the mess he has left them in and his past.
At Butcher's Joints, Janine gives Lucy the task of informing tenants of rent rises. Lucy struggles morally with the "greedy" 25% increase. Whilst Lucy delays handing out the letters, Jean mentions that she is likely to have inherited Ian's heartless business streak; Lucy finds it a little disturbing.
An unwell Sam makes a phone call - he needs to see someone today. Later he leaves the flat, dressed in a suit. When he fails to meet for a drink and fix a leak for Kat, Ava grows puzzled.
Last on
Credits
| Role | Contributor |
| --- | --- |
| Jean Slater | Gillian Wright |
| Kat Moon | Jessie Wallace |
| Roxy Mitchell | Rita Simons |
| Phil Mitchell | Steve McFadden |
| Billy Mitchell | Perry Fenwick |
| Lola Pearce | Danielle Harold |
| Ronnie Mitchell | Samantha Womack |
| Jack Branning | Scott Maslen |
| Michael Moon | Steve John Shepherd |
| Janine Butcher | Charlie Brooks |
| Lucy Beale | Hetti Bywater |
| Abi Branning | Lorna Fitzgerald |
| Lauren Branning | Jacqueline Jossa |
| Dexter Hartman | Khali Best |
| Ava Hartman | Clare Perkins |
| Sam James | Cornell S John |
| Ollie Walters | Tony O'Callaghan |
| Nurse Ellen | Liza Sadovy |
| Executive Producer | Lorraine Newman |
| Director | Daniel Wilson |
| Writer | Carey Andrews |
If you want something done...