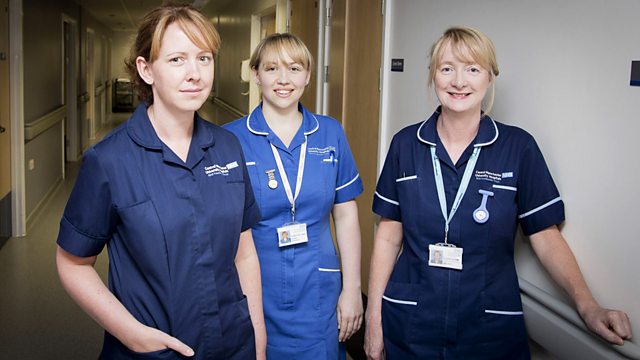 This episode looks at the work of the midwives at Saint Mary's Hospital, Manchester, who help mums and dads through high risk pregnancies or cases where mums and their babies need extra special care.
Greta and Susan are specialist midwives who run the diabetes clinic. They care for an increasing number of pregnant women just like Karla, who is expecting her third child. But it is not just Karla's diabetes that needs careful monitoring - her baby has developed an exomphalus where some of the baby's internal organs have developed outside the body. Follow the midwives as they prepare Karla for her birth and for the prospect of her newborn baby having a major operation just 24 hours old.
In triage, midwife Heather meets Steph, who has just collapsed during a trip to her local supermarket. After becoming pregnant, Steph was diagnosed with a complex congenital heart condition putting both mum and her baby's life at risk. The midwives and the hospital's cardiac team must act quickly if they are to get Steph and her baby safely through pregnancy.
In the specialist antenatal clinic we meet midwife Charlotte as she carries out a routine check-up on Paralympian Sophie. Sophie has a rare genetic condition that causes the most common form of short-limb dwarfism and there is a 50/50 chance that Sophie's baby may inherit the condition. As the midwives support her through her pregnancy, they are also monitoring scans of the baby to see how the baby is growing. It will not be until the final scan that Sophie and her husband Prince will know for sure.
Last on
BBC Two
Wales (Analogue),

Wales

only
Credits
| Role | Contributor |
| --- | --- |
| Narrator | Rupert Houseman |
| Director | Rachael Smith |
| Producer | Rachael Smith |
| Series Producer | Joanne Timoney |
| Executive Producer | Spencer Kelly |
| Executive Producer | Maxine Watson |
| Composer | John Lemke |
| Colourist | Liam Shanagher |
| Re-recording mixer | Hannah Fairclough |
| Production Coordinator | Nicola Hill |
| Production Manager | Jackie McKinney-Dyer |