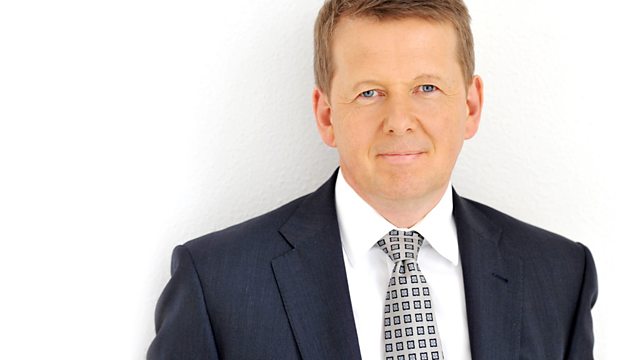 The Holy Cross
Bill Turnbull explores the significance of the Christian cross and introduces hymns from Holy Cross Church in Greenford. Peter Howarth, lead singer of The Hollies, performs The Old Rugged Cross.
Last on
Factsheet for Sunday 8th September 2013
Bill Turnbull explores the significance of the Christian cross, looks ahead to Holy Cross Day and introduces hymns inspired by the cross from Holy Cross Church Greenford and Peter Howarth, lead singer of The Hollies, who performs The Old Rugged Cross.
Interviewees
Rev Neil Richardson 
After 30 years as the vicar of Holy Cross church Greenford, the Rev Neil Richardson retired in July this year. He shared with us his passion for the church's collection of  'Stations of the Cross' – a series of 14 carvings depicting the journey of Jesus from his sentencing to death to his entombment. The church also has a set of colourful banners depicting the ten instruments of the Passion of Jesus.  Both were created by local artists.
As a response to the banners, Neil has written a series of sonnets to accompany each banner.
Neil also explains how he uses both the stations of the cross and the banners as an aid to teaching children the story of the Crucifixion and why the story still matters today.
For more information see http://www.greenfordmagna.info/
Alison Wood
Alison is Project Coordinator of the Ealing Churches Winter Night Shelter - an ecumenical church initiative which runs for 3 months from December to March, in a number of different churches in the Borough of Ealing, which exists to provide shelter for the homeless over the coldest nights of the year.   Alison reflects on how Jesus, through his crucifixion, identified and allied himself with the 'despised and rejected' of society, by dying as one of them.   For more information see http://www.ecwns.org.uk/home/
Norma Jean Murrain
Norma founded Silverfish Jewellery, a company which makes contemporary Christian jewellery.   She has designed many different types of crosses – all inspired by verses in the bible.   Each cross is sold with a verse from the Bible.   Norma describes how Silverfish Jewellery came about when she felt herself challenged to take a step of faith to do something she felt passionately about – creating jewellery.   For more information see www.silverfishjewellery.co.uk     
Maria Morrison and PC Simon Coates
Maria, a pensioner, was the victim of a random violent knife attack at a bus shelter in Manchester in 2011.   On being taken to hospital, Simon was the policeman responsible for her care.  During conversation, it emerged that they shared a faith, and Simon gave Maria his crucifix for comfort because she was so distressed and badly injured.    When Maria finally came home from hospital and gave Simon his silver crucifix back, he had carved a wooden cross for her, which is now on her wall at home.   Maria speaks of forgiving the man who nearly killed her.    Simon and Maria are now good friends.   Simon sees Maria regularly, calling in for a cup of tea, and refers to her as  'his work gran'!
Performances
Peter Howarth
Peter Howarth is the current lead singer of the British band The Hollies, joining in October 2004.
He performed his own arrangement of The Old Rugged Cross in the Old Church at Holy Cross Church Greenford.
Faryl Smith with The International Harp Ensemble
The group performed When I Survey The Wondrous Cross to the tune: Waly Waly, which is a traditional folk tune.
The International Harp Ensemble is affiliated to the Surrey Harp Ensemble. It is lead by Luisa-Maria Cordell. They began with just eight enthusiasts, but it has now grown to twenty seven harpists across a wide range of ages.
In 2009 following her performance on Britain's Got Talent Faryl Smith's album became the fastest-selling classical debut album in chart history.
For more information go to www.farylmusic.co.uk.
Locations
Holy Cross Church, Greenford.
Credits
| Role | Contributor |
| --- | --- |
| Presenter | Bill Turnbull |
| Producer | Charlotte Hindle |
| Series Editor | David Taviner |
| Executive Producer | Tommy Nagra |
| Performer | Peter Howarth |