Indonesia's Mercury Menace
Up to 20% of the world's gold is produced by informal mining, with millions of people in the developing world relying on it for a living. The quickest and easiest way for them to extract gold is by mixing finely ground rock with mercury, a highly toxic metal, and burning it off. Linda Pressly visits Indonesia, and finds gold workers and communities who are already showing signs of mercury poisoning. There are paddy fields with the highest concentration of mercury ever tested in rice. Experts tell her this is a slow-burn disaster, which could lead to irreversible harm to the health of people across the globe.
Producers: Emil Petrie, Nina Robinson.
Last on
Miners use mechanical sluices to trap the mud that is rich in gold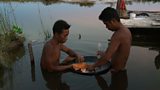 They mix this with mercury in buckets using their bare hands. Mercury is a persistent pollutant - it does not break down in the environment.
Toxic Fumes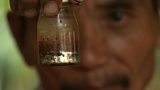 Mercury use in small-scale gold mining in Indonesia is illegal, but miners still use it to extract gold from the rock or soil.
The fumes are highly toxic and is slowly poisoning miners who use it in the field.