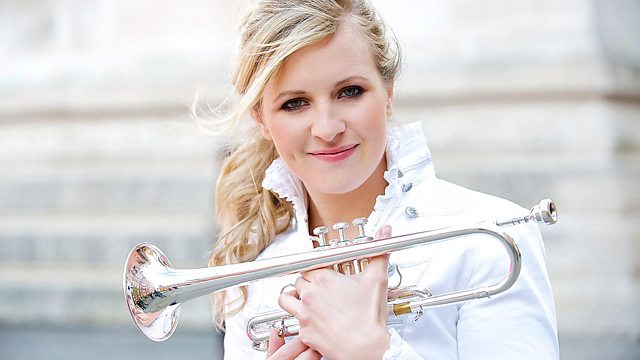 Alison Balsom; Great Men Value Women; UKIP
Listen in pop-out player
Trumpeter, Alison Balsom. Great men value women: a school initiative talking to teenage boys about masculinity. We visit a school with comedian and actor Doc Brown and discuss the issues co-founder of the project Karen Ruimy and James Dawson, author of Being A Boy.
Janice Atkinson, prospective UKIP MEP candidate for South East England on how she thinks the party can appeal to women. And how to make a good decision - Noreena Hertz author of Eyes Wide Open: How To Make Smart Decisions In A Confusing World.
Last on
Gender Equality
Great Men Value Women is an initiative which is all about engaging young men and boys in gender equality.   The charity is organising men, like former rapper and stand-up comedian Doc Brown, to visit schools and run workshops exploring gender issues.  Felicity Finch has been along to the Kelmscott Secondary School in East London to see Doc in action.  Jenni discusses the importance of such debate with Karen Ruimy, Co–founder of the Great Men Value Women Initiative and James Dawson, a former PSHCE co-ordinator and author of BEING A BOY a guide to puberty, sex and relationships.
Being a Boy is published by Red Lemon Press. £6.99.
How female friendly is UKIP?
The political party conference season is here and this weekend it's the turn of the UK Independence Party. There are currently 11 UKIP MEPs and 3 peers sitting in the House of Lords but none of these are women. So how friendly is the UKIP Party to women?  Jenni talks to Janice Atkinson is one of the prospective UKIP MEP Candidates for South East England.
Alison Balsom
Alison Balsom has just won the most prestigious international award in the classical music industry – Gramophone's 'Artist of the Year' at the 2013 Gramophone Classical Music Awards (the ceremony was on Tuesday).   It's an international public vote.  Her new Album The Sound of Alison Balsom, released this week, celebrates 10 years as a recording artist.
Noreena Hertz
Decisions, decisions, decisions. Academic and economist Noreena Hertz is an expert in decision making. She has been described as "one of the world's leading thinkers," has given talks at the World Economic Forum, and is advisor to many major corporations. But now she's turned her attention to explaining how we can ALL make better decisions – not just in business, but in our everyday lives. And in a world of information overload - where we're bombarded by messages from the internet, technology, advertising, and media - it's never been more important. Whether we're making decisions about our careers, our money, our relationships, our families, even our health. Whether it's significant, life-changing decisions, like changing job, starting a family, or having surgery. Or whether it's simply the more everyday - like what to buy and eat for lunch - it's something we all need to do well. Noreena Hertz explains why it's more difficult than ever to make a good decision and how to get better at it, tackles decision-making dilemmas in women's personal and professional lives, explains how we can influences others' decisions, and discusses how the quality of decision making by those in power affects the lives of women everywhere today.
Eyes Wide Open: How To Make Smart Decisions In A Confusing World by Noreena Hertz is published by William Collins
Credits
| Role | Contributor |
| --- | --- |
| Presenter | Jenni Murray |
| Interviewed Guest | Alison Balsom |
| Interviewed Guest | Janice Atkinson |
| Interviewed Guest | Doc Brown |
| Interviewed Guest | Karen Ruimy |
| Interviewed Guest | James Dawson |
| Interviewed Guest | Noreena Hertz |
| Producer | Beverley Purcell |