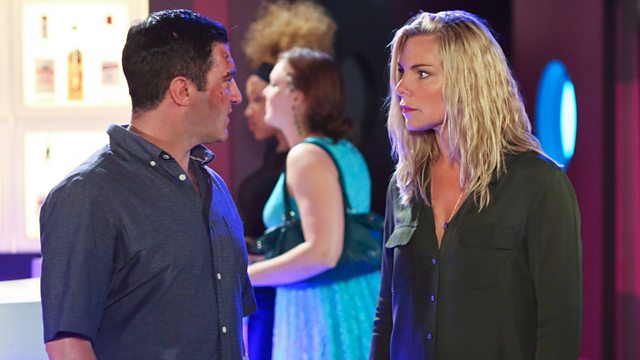 13/09/2013
Ronnie asserts her authority in R&R but Carl is defiant. With Carl at the Arches too, Ronnie threatens to call the police about his dodgy cars. Jack gets a shock when he sees Ronnie. She gets a frosty reception from Sharon in R&R, which is made worse when Jack appears. Ronnie tells Jack to keep away from her. When she attempts to check the accounts book for the Vic, Alfie orders her out. Ronnie is upset that Roxy stays quiet. Ronnie tries to leave, but Billy tells her that Phil would be ashamed. She returns to R&R and steps in to help a reluctant Sharon control Carl and his rowdy mates. He offers to provide club security but Ronnie won't be pushed out; she's a Mitchell. Cark smirks - game on. At R&R, Jack confesses to Ronnie he tried to forget her but James' death doesn't have to be the end of them. He tells a tearful Ronnie he won't let her push him away again and kisses her tenderly.
Kim tells Jean that Shirley left for Greece without paying her B&B rent. Jean is surprised she left without her sunglasses from Jimmy. After a pep talk from Alfie, Jean decides to go to Ollie's retirement party. Ian is horrified at Carl's reaction to Shirley's sudden departure. At Ollie's party, Jean is disturbed to find out he's retiring due to a case involving a mother with mental health issues. She flees; unaware that Ollie has seen her. A tearful Jean is comforted by Kat and leaves Shirley a voicemail. As rubbish is collected outside the Vic, Shirley's phone beeps from inside a bin bag, along with a photograph of Shirley and Heather, and Shirley's leather jacket.
When Lauren threatens to go and see Max, a moody Kirsty is forced to tell the truth about her last prison visit. After a clash with Lola over Max's innocence, Abi forces Lauren to take her to visit Max. He confirms his confession of guilt is true. At home, Lauren thinks Max is lying but Abi doesn't. Smashing a family photo, Abi declares she doesn't want to be a part of their family anymore.
Last on
Credits
| Role | Contributor |
| --- | --- |
| Ronnie Mitchell | Samantha Womack |
| Jack Branning | Scott Maslen |
| Sharon Rickman | Letitia Dean |
| Carl White | Daniel Coonan |
| Phil Mitchell | Steve McFadden |
| Lola Pearce | Danielle Harold |
| Jay Brown | Jamie Borthwick |
| Abi Branning | Lorna Fitzgerald |
| Lauren Branning | Jacqueline Jossa |
| Kirsty Branning | Kierston Wareing |
| Max Branning | Jake Wood |
| Alfie Moon | Shane Richie |
| Roxy Mitchell | Rita Simons |
| Jean Slater | Gillian Wright |
| Kat Moon | Jessie Wallace |
| Liam Butcher | James Forde |
| Michael Moon | Steve John Shepherd |
| Ian Beale | Adam Woodyatt |
| Denise Fox | Diane Parish |
| Kim Fox | Tameka Empson |
| Frank | Patrick Driver |
| Ollie | Tony O'Callaghan |
| Executive Producer | Lorraine Newman |
| Director | Jennie Darnell |
| Writer | Katie Douglas |