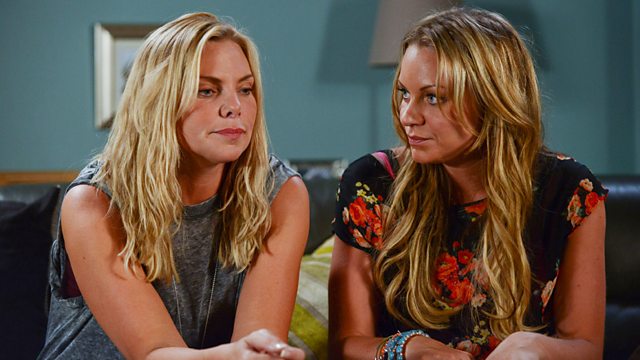 11/09/2013
Ronnie faces as a day of taunting from Michael as she wakes up to find him staring at her. Kat continues to help Ronnie by agreeing to get Roxy to see her but Roxy refuses. In the launderette, Dot persuades Ronnie to visit Roxy and helps to sneak her into The Vic. Michael wastes no time in telling Alfie, who charges upstairs, grabs Tommy and leaves. Kat follows Alfie and they discuss the night 'Tommy' died. At The Vic, Ronnie tells Roxy that she's feeling lost. Ronnie almost tempt Roxy with their Ibiza bar dream but conversations turn sour when Alfie is mentioned. Alfie's listening and is furious with Roxy and demands that she chose between him and Ronnie. Roxy picks Alfie.
Shirley says her goodbyes; Jean's hoping she'll change her mind. Lola's angry and Dot admonishes her for telling Shirley not to bother saying goodbye to Lexi. Shirley realises Carl's up to no good with Dexter and Jay and threatens to phone Phil but Carl calls her bluff. She convinces Jay and Dexter to tell Carl not to bring any more cars. Lola makes amends with Shirley, before Shirley heads to Heather's old flat to lay flowers. Jean's prepares a Greek themed leaving party for Shirley at The Vic, where Shirley puts 'Respectable' on the jukebox as a tribute to Heather.
Ian asks Denise to move in, to the shock of Peter, Lucy, Patrick and Kim. Denise packs and Kim pretends not to care that she's going but her true feelings come out as the sisters fight over a teddy bear, before hugging goodbye. Later, shouting from their respective upstairs windows, Denise and Kim arrange to meet at the Vic.
A mobile's left in Max's cell with a text 'call me'. Max calls; Carl answers threatening Lauren. He says he'll leave her alone if Max tells Kirsty he's guilty and ends their marriage.
Shirley apologises to Jean for putting her off Ollie. Jean visits the allotments to find Ollie but he's gone and Billy's taken over his patch. Jean tells Shirley she and Ollie are back on.
Last on
Credits
| Role | Contributor |
| --- | --- |
| Ronnie Mitchell | Samantha Womack |
| Roxy Mitchell | Rita Simons |
| Alfie Moon | Shane Richie |
| Jack Branning | Scott Maslen |
| Kat Moon | Jessie Wallace |
| Shirley Carter | Linda Henry |
| Peter Beale | Ben Hardy |
| Ian Beale | Adam Woodyatt |
| Lucy Beale | Hetti Bywater |
| Max Branning | Jake Wood |
| Carl White | Daniel Coonan |
| Kirsty Branning | Kierston Wareing |
| Joey Branning | David Witts |
| Alice Branning | Jasmyn Banks |
| Kim Fox | Tameka Empson |
| Denise Fox | Diane Parish |
| Lola Pearce | Danielle Harold |
| Jay Brown | Jamie Borthwick |
| Dexter Hartman | Khali Best |
| Executive Producer | Lorraine Newman |
| Director | Jennie Darnell |
| Writer | Matt Evans |
| Abi Branning | Lorna Fitzgerald |
| Lauren Branning | Jacqueline Jossa |
| Dot Branning | June Brown |
| Patrick Trueman | Rudolph Walker |
| Jean Slater | Gillian Wright |
| Billy Mitchell | Perry Fenwick |
| Michael Moon | Steve John Shepherd |
| Sharon Rickman | Letitia Dean |