Teenage reading; Inheritance law; Antarctic commander; Botox and incontinence
The Commander of the base at the British Antarctic Survey, Agnieszka Fryckowska, talks to Jane Garvey about life on the ice shelf and surviving two months without sunshine. We hear the latest in a campaign calling to end the "outdated and manifestly unfair" laws of succession. The Countess of Clancarty joins Jane in the studio. NICE has approved the use of Botox injections as a treatment for urinary incontinence. How significant is this new treatment and who is it most likely to help? A new book by Joanna Strober argues that couples need to share housework 50:50 in order for women to succeed in their careers. And what are teenage girls reading?
Last on
Gender Equality for Women in the Peerage
Current laws of succession in the UK mean that most noble families cannot pass down titles to their daughters as well as their sons. The most recent case in the public eye is that of the 14th Earl of Northesk. Thanks to the UK's existing inheritance law for titles, his three daughters have missed out on the title and this has now gone to an eight cousin once removed,  Patrick Carnegy, despite family attempts to block his inheritance. This is not the first time female members of the aristocracy have tried to change the laws of inheritance.  Lady Ann Clifford, the only surviving child of George Clifford, 3rd Earl of Cumberland, fought hard for the family estates and title at the beginning of the 17th century.  Today there is a campaign in place calling to end the "outdated and manifestly unfair" laws of succession. The Countess of Clancarty is one of the movers behind the campaign and she joins Jane in the studio.
NICE approves Botox injections for urinary incontinence
Agnieszka Fryckowska, Antarctic Base Commander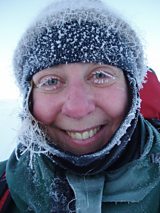 Agnieszka Fryckowska was studying alpine geomorphology and glaciology as an undergraduate when she developed an interest in the Antarctic. She first went to work as the wintering Meteorologist at Rothera Research Station in 2004, a role which involved 34 months in the Antarctic without leaving. Following many years as a research scientist in this very challenging environment, she now manages teams of researchers and is the winter and summer Base Commander at the newly rebuilt Halley VI base station on the Brunt ice shelf, the only woman in a team of 13. The winter crew, who are responsible for keeping the work of the British Antarctic Survey going through the brutal winter, have recently seen the sun rise again for the first time after two months of darkness.
What are our daughters reading?
Many of us remember the books we loved as adolescents but are our teenage daughters hooked by the same books we were? Jane is joined by the author and journalist  Barney Bardsley who has surveyed mums and daughters about their reading habits and Julia Eccleshare, The Guardian's children's books editor and leading authority on children's literature.
Getting to 50/50: How Working Couples Can Have it All By Sharing it All
Getting to 50/50  was published in the UK last week, and has become a bestseller in America. The book argues that splitting childcare and housework 50/50 makes for happier children and a happier marriage, and it offers advice on how to get husbands to pull their weight around the house. Facebook chief operating officer Sheryl Sandberg writes the foreword to the book and says splitting the housework helps women engage fully in their career.  Jane discusses the issues with Joanna Strober, co-author of 50/50, and with Jessica Chivers, author of Mothers Work! How to Get a Grip on Guilt and Make a Smooth Return to Work, and founder of The Talent Keeper Specialists
Credits
| Role | Contributor |
| --- | --- |
| Presenter | Jane Garvey |
| Interviewed Guest | Agnieszka Fryckowska |
| Editor | Alice Feinstein |
| Producer | Lucinda Montefiore |