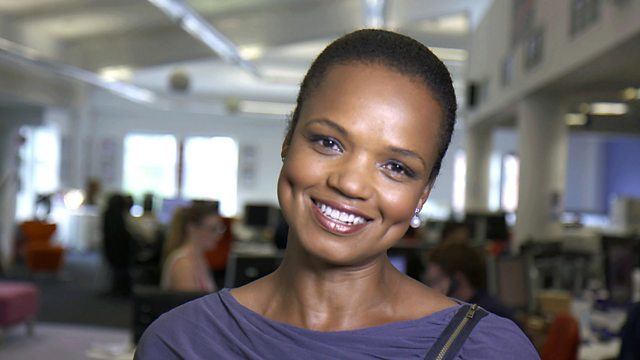 09/09/2013
As the biggest ever hate crime survey gets underway in Leicester, Inside Out East Midlands meets the victims who've been too scared to speak out. Anne Davies investigates the options for elderly care in Derbyshire. And Marie Ashby investigates why erotic fiction for women is making big bucks for authors, and wonders what DH Lawrence would make of it all.
Last on
Hate crime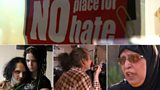 Far more people need to be willing to report hate crimes, say researchers carrying out what is believed to be the UK's biggest study of the problem.
It is hoped the University of Leicester's two-year project will "give a voice" to those affected and ultimately encourage others to speak out.
Read the full story on the BBC News website.
Boom in erotic fiction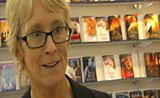 Barbara Elsborg is an erotic fiction author but it has not always been that way. Barbara wrote fiction for decades before her work was finally accepted by a publisher, at the age of 54. 
"I had so many rejection letters to the point that I cried. Then a publisher said, put sex in the stories because they'll sell. I did and they were right. That's exactly that happened. And everything I've written since has been accepted by a publisher. It's made a big difference to my bank account." 
She's now published more than two dozen books on erotic fiction. "It's not literary fiction, we're not trying to say this is the same as 'Lady Chatterley's Lover', but it's fun to read and I have emails from people saying how much they enjoyed it."
Since the global phenomenon of 'Fifty Shades of Grey' by E.L. James,  Barbara has seen her own erotic fiction sales increase dramatically.
"Fifty Shades made a tremendous difference. I was selling hundreds of books a month. Now I'm selling thousands a month."
Some of Barbara's books are published by Ellora's Cave, the world's largest publisher of erotic fiction, based in the United States.  They represent 800 authors and sell half a million books a month. There's a big market in the United States.
Raelene Gorlinsky is a publisher for Ellora's Cave: "People are becoming more open to their sexuality, more open to what they're willing to read. Stories are driven by the sexual relationships. It isn't some story where you just put in some sex scenes. That doesn't work."
There is a difference in readership tastes either side of the Atlantic, as Raelene Gorlinksy points out: "The UK generally prefers modern contemporary romance. In the U.S. there's an emphasis on paranormal, futuristic romance, other planets, aliens as lovers, a great variety of alien types."
D.H. Lawrence's influence
Barbara Elsborg began writing while growing up in Ilkeston, near the home of the author D.H. Lawrence. He was once a student teacher where she was educated at the local grammar school. 
It was his final novel,  'Lady Chatterley's Lover', which was a turning point for the kind of  sexually explicit material which would eventually be published in the U.K. Lawrence had twelve hundred copies printed in Italy in 1928, as publishers thought it was too racey for the British readership at the time.
But in 1960 Penguin Books challenged the law on obscenity at the time by printing twenty thousand copies of 'Lady Chatterley's Lover'. They were prosecuted, but cleared by a crown court jury in London, who decided the novel would not deprave and corrupt.
The unedited version of 'Lady Chatterley's Lover' was then available for the first time in England. On Thursday,  November  10th, 1960, the first 200,000 copies sold out the same day. The novel ensured Lawrence's place in literary history.
Dr John Worthen, is Lawrence's biographer and a former Professor of English at the University of Nottingham, close to Lawrence's hometown of Eastwood in Nottinghamshire.
Although Lawrence paved the way for today's modern erotic fiction authors, Dr Worthen believes he wouldn't have been too impressed: "Lawrence wanted to write genuinely and honestly about relationships. He wanted to say it as it is, not just action but also feelings. He would have thought today's erotic fiction terrible. It's about romance and Lawrence wanted to write books about real things. He would have thought erotic fiction was just fantasy. Fantasy didn't interest him very much I'm afraid. He would have had no time for it at all."
Publishing books
In Lincoln, the largest erotic romance publisher of its kind in the UK, Total-E-Bound, is rebranding to develop from a niche to mainstream market. It's seen its sales increase by eighty percent in just two years. They're producing up to nine books a week.
In 2007 the business  started with seven authors, they now publish 270 writers. There's even a 'Clandestine Classics' series, which includes one of Lawrence's lesser known works, The Fox, sexed up for the erotic romance readership.
Claire Siemaszkiewicz, Total-E-Bound's Chief Executive, says: "There's a huge demand for erotic romance. It takes women away from their everyday lives. It's a bit of escapism and gives them that little bit of sparkle. We've had emails from women who've thanked us for introducing something fresh and exciting into their lives and provided new ideas for their relationships. Giving them a new lease of life, which is fabulous."
Total-E-Bound surveyed 1,800 of their readers. They discovered most are female, aged between 30-50 years of age. Many reading up to ten erotic romance books a month. Just over half work full time and seventy percent of their customers use eReaders.
Claire added, "Women are much more comfortable downloading books rather than the stigma attached to picking up a book off a top shelf in a book store. It avoids embarrassment and it's readily available online."
Book club members who meet at the library in Lawrence's home town of Eastwood reviewed 'Lady Chatterley's Lover' and  'Strangers', Barbara Elsborg's best seller.
Sixty-eight-year-old Ros Tomlinson said: "I was surprised by the content, as the book cover  is almost like Woman's Weekly. It's all about escapism. A dream world."
Janette Martindale, who's 41 and runs the book club, said: "Strangers is the type of book which is almost like throw away fiction. You read it very quickly and women would take it on holiday. We are still reading Lady Chatterley's Lover to this day. But will we still be reading the same erotic fiction in 100 years time? I don't think so."
Marie Scott, who's 39-years-old, felt the content was lacking in 'Strangers', "Lady Chatterley is a proper story. The plot in Strangers takes second place, just connecting one erotic scene to another."
Dr Worthen isn't keen on reading the genre, but respects the work of the modern day erotic fiction writers. 
"Barbara is a professional, she knows what she's doing. But erotic fiction is about people having a pretty good time. Lawrence felt relationships should be more serious than that". Barbara Elsborg accepts that Lawrence, among other authors, is the reason she is able to write erotic fiction today.
"Even when I was at school, he was on the periphery of what we could read. If you'd told me that I'd be writing this sort of work now I wouldn't have dreamt that would be the case."
Credits
| Role | Contributor |
| --- | --- |
| Presenter | Marie Ashby |
| Reporter | Anne Davies |
| Series Editor | Tony Roe |