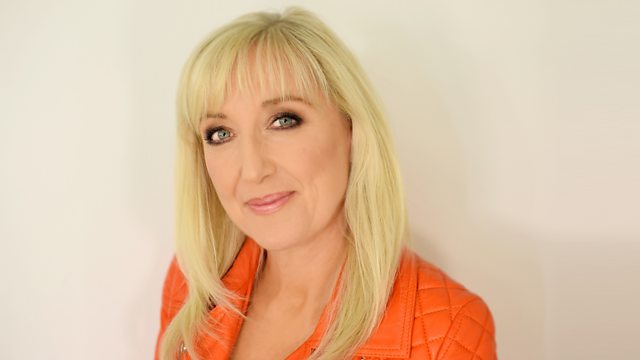 10/09/2013
An-diugh tha sinn a' beachdachadh air dà dhealbh-chluich gu math eadar-dhealaichte.Thug Steafain MacRisnidh sùil air an dealbh-chluich Victoria - sgeulachd mu dheidhinn trì ginealaichean ann an coimhearsneachd air Ghàidhealtachd anns an fhicheadamh lìnn a chaidh a sgrìobhadh le David Greig.
Chaidh Dolina NicIllinnein a choimhead If these Spasms Could Speak, dealbh-chluich le aon neach-cleasaiche stèidhichte air sgeulachdan èibhinn, cianail, annasach agus inntinneach mu dheidhinn daoine ciorramach. Chaidh a sgrìobhadh agus a chluich leis a' chleasaiche Robert Softly.
Cuideachd dè a bhiodh tu dèonach pàigheadh airson botul fìon? Sin a' cheist a tha Cathy a' cuir air feadhainn a tha gu math dèidheil air an deoch.
Agus tha Seonag Nic a' Ghobhainn air ais anns anns a' chidsin. An-diugh tha i gu bhi a' dèanamh cèic Streusel.
Am measg a' chiùil tha Michael Bublé, Bryan Adam, Nina Nesbitt agus One Republic. bbc.co.uk/feasgar.
Last on
Cèic Streusal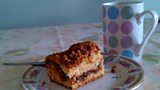 An Cèic:
4 unnsa ìm
4 unnsa siùcar mìn
3 uighean
8 unnsa flùr lom
1 spàin-teatha bicarbonate of soda
1 spàin-teatha fùdar bèicearachd
8 unnsa bàrr geur
An t-Uachdar:
8 unnsa siùcar donn (bog, soileir no dorcha)
2 spàin-teatha caineal prann
4 unnsa cnò-Fhrangach (walnuts) (air an gearradh)
2 unnsa ìm
Mar a nì thu seo:
Teasaich an àmhainn gu 180C/350F/comharra gas 4. Linig tiona cèic ceàrnagach 23cm/9" le pàipear greaseproof air gach taobh agus liac le ìm.
An t-uachdar:
Measgaich an siùcar donn, an caineal prann, na cnòthan-Frangach agus an t-ìm ann am bobhla gu bheil e na phronnagan.  Cuir gu aon taobh e gu rithist.
An Cèic:
Measgaich an t-ìm agus am bàrr gu bheil iad bog.  Cuir ris an t-siùcar agus measgaich gu math gus a bheil e aotram.  Cuir ris na h-uighean , aon as dèidh aon, agus measgaich gu matg gach uair.
Ann am bobhla eile criathar am flùr, bicarbonate of soda , a' fùdar bèicearachd còmhla.  Fill a-steach dhan choimeasg ìm, beag air bheag an cois a' bhàrr
Dòirt leth dhen choimeasg dhan tiona agus crath leth dhen na pronnagan air uachdar.  Dòirt an corr dhen choimeasg dhan tiona agus dòirt na th'air fhàgail de na pronnagan air uachdar.
Cuir dhan àmhainn e airson 60-70 mionaidean gus am fàs e donn.
Nuair a tha a chèic bruich thoir an tiona as an àmhainn agus leig leis fuarachadh airson còig mionaidean mus d' thoir thu as e.
Streusal Cake
Cake:
4 oz butter
4 oz caster sugar
3 eggs
8 oz plain flour
1 tsp bicarbonate of soda
1 tsp baking powder
8 fl oz sour cream
Topping:
8 oz brown sugar (soft, light or dark)
2 tsp ground cinnamon
4 oz chopped walnuts
2 oz butter
Method:
Preheat oven to 180C/350F/Gas Mark 4.
Line the base of a 23cm/9 inch square cake tin with greaseproof paper and grease the paper and sides.
For the topping, place the brown sugar, cinnamon and walnuts in a bowl. Mix, then add the butter and rub in until the mixture resembles breadcrumbs.
To make the cake, cream the butter until soft. Add the sugar and beat until light and fluffy. Add the eggs, one at a time, beating well after each addition.
In another bowl, sift the flour, bicarbonate of soda and baking powder together. Fold the dry ingredients into the butter mixture in three batches, alternating with sour cream. Fold until blended after each addition.
Pour half of the batter into the prepared tin and sprinkle over half the topping. Pour the remainder batter on top and sprinkle over the remainder topping. Bake until browned, 60-70 minutes. Leave in tin for 5 minutes, then turn out and cool on a wire rack.