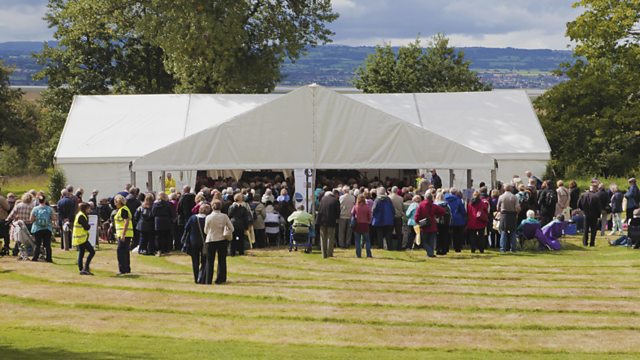 Summer Garden Party 2013, Ness Botanic Gardens
Listen in pop-out player
Eric Robson is joined by Matt Biggs, Matthew Wilson, Pippa Greenwood and Toby Buckland to answer questions at the gardening event of the year, the GQT Summer Garden Party 2013 at Ness Botanic Gardens.
Produced by Howard Shannon
A Somethin' Else production for BBC Radio 4.
Q: What is the secret of successfully growing a Buddleja?
A: Buddleja seeds spread on the breeze very easily. They like freely drained soil with a sunny, open aspect. If you've got heavy soil you can rake it up into a mound to create a slightly raised area of around 4 inches/10cm. This will help a Buddleja to become established. Once established, you'll struggle to get rid of it! If you bought the plant in a container with a well-established root system it could well be pot-bound, so make sure that you buy as small a plant as you possibly can and really spread the roots out well when planting out.
Q: We've fallen in love with the white border. I've recently dug a border 40ft (12.2m) by 6ft (1.8m). What are the must-have white plants to plant in it?
A: Actually, plants that aren't white are essential because you really need some contrast in there or you'll end up with a monochromatic wash. For this you could choose plants with contrasting foliage including silver foliage, but also you should look for contrasting flowers, for example pale blue Geraniums. For white plants, you could go for white Penstemon. For early season you could use Orlaya, Anthriscus which have a look similar to cow-parsley.
Q: Why do Harebells only grow in the wild?
A: It is likely that, like a lot of wildflowers, they prefer specific and quite mean conditions with a scarce amount of food and care, which is the sort of thing you'll find in a rough bit of meadowland but less so in well kept gardens. If you wanted to grow them, as with many plants that thrive in the wild, it's best to really carefully look at the conditions they thrive in because you'll need to recreate this as best you can.
Q: I have a yearning for a cold frame to sit alongside my unheated greenhouse. If I had one, can the panel advise me how best to use the two in tandem to protect my plants in tubs, etc during the winter?
A: Often cold frames you can purchase aren't actually big enough if you want to get good use from them. Ideally you could get someone to make one for you that has the front about 60cm (2ft) tall going up at a good slope at around 120cm (4ft) at the back. That will allow you to put pots in there of a reasonable size to over winter. The other thing you can do by customizing your own is to increase the light levels inside by painting it white, this will really help. A cold frame is very handy for moving plants into when the greenhouse is packed and using as a mid-way for plants from the house back out into the garden. It is also much more flexible than a greenhouse for hardening off plants, because you can simply take the top off the cold frame and replace when needed.
Q: Can I plant fruit bushes on ground cleared of Monkshood? I understand that the roots are poisonous.
A: The entire Monkshood plant is highly toxic, so there is the possibility that some of the chemicals could be taken up if you had fruit plants growing in that soil, although it is very unlikely. To be completely safe, you should avoid it.
Q: What plants can we use on a steep, northwest-facing bank which borders our natural brook? We want to reduce erosion from rain and flooding, the bank floods occasionally. We're at the base of Wenlock Edge, the soil is clay on limestone and it's a frost pocket. Help!
A: In those conditions a Spurge (Euphorbia amygdaloides) would do well, with acid yellow flowers in the spring. They will tend to spread and won't mind a bit of flooding. If you plant them in ground that is too good, they're quite hard to get rid of but in these tough conditions they should be ideal. The best idea is to fill the area with plants that want to be there. If you try plants and they fail, move onto something different until you find the ones that thrive. You could try Bergenia abendglut which will spread and is full of pink flowers in with bronze/red leaves in Autumn. You should also plant ferns which will do well on that bank, including Dryopteris wallichiana, Dryopteris erythrosora, Polystichum setiferum Herrenhausen and Brunnera silver leaf form like 'Jack Frost'. You should plant in quantity.
Last on
Seven things Prince Charles says you should do in the garden