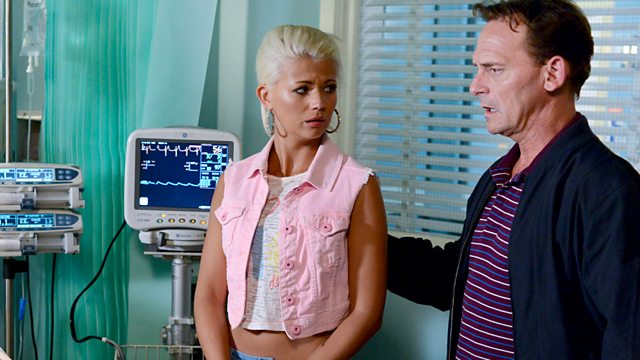 06/09/2013
Max is released on bail, having been charged after tools needed to cut car brakes were discovered in the house and a witness made a statement saying they saw Max tampering with the car. Max is convinced Carl is responsible and determined to find out who the witness is. Meanwhile, Carl speaks to someone on his mobile - they've done good. At the Vic, Max is riled to see Carl watching Kirsty. Carl demands to know why Max tried to kill him. As a police car pulls up, Max rounds on Carl and floors him with a punch. He's arrested for assault. Carl turns to Ian, telling him that if he sticks to his witness statement he'll be debt free. Carl knocks on the police car window, gloating – it's been 3 weeks and he has Kirsty all to himself.
A groggy Phil wakes to find Billy and teary Lola by his bedside. Lola insists Lexi needs him and Billy promises to look after the businesses. Meanwhile, Shirley's let herself in to Phil's house and is heading for the safe when Roxy enters to pick up Phil's belongings. Shirley hides with Lexi until Roxy's gone, then opens the safe and takes out bundles of cash.
Roxy confesses to Alfie that Ronnie's being released from prison. Alfie's stunned that Roxy hasn't told Ronnie about their relationship. Alfie's floored when Roxy reveals Ronnie might stay at Phil's when she's released. Bianca urges Kat to stay strong if Ronnie shows up. Kat admits to Alfie that she knew about Ronnie's release but felt it wasn't her place to tell him. Alfie tells Roxy he can't let Ronnie back into his life.
Jay's relieved when Lola later agrees not to tell Abi about his kiss with Kitty. Lola insists it's only for Abi's sake and warns if Jay cheats again she'll tell Abi everything.
Bianca leaves for Manchester to start her course.
Danny puts up football training posters for the gym at the Vic. Alfie wants to get the pub football team together again. Dexter's keen when he learns training is followed by a massage, courtesy of Beauty.
Last on
Credits
| Role | Contributor |
| --- | --- |
| Max Branning | Jake Wood |
| Carl White | Daniel Coonan |
| Kirsty Branning | Kierston Wareing |
| Abi Branning | Lorna Fitzgerald |
| Lauren Branning | Jacqueline Jossa |
| Jack Branning | Scott Maslen |
| Ian Beale | Adam Woodyatt |
| Carol Jackson | Lindsey Coulson |
| Bianca Butcher | Patsy Palmer |
| Kat Moon | Jessie Wallace |
| Alfie Moon | Shane Richie |
| Roxy Mitchell | Rita Simons |
| Shirley Carter | Linda Henry |
| Phil Mitchell | Steve McFadden |
| Billy Mitchell | Perry Fenwick |
| Lola Pearce | Danielle Harold |
| Dexter Hartman | Khali Best |
| Jay Brown | Jamie Borthwick |
| Masood Ahmed | Nitin Ganatra |
| Danny Pennant | Gary Lucy |
| Liam Butcher | James Forde |
| Whitney Dean | Shona McGarty |
| Morgan Butcher | Devon Higgs |
| Tiffany Butcher | Maisie Smith |
| Police Officer | Paul Bridle |
| Executive Producer | Lorraine Newman |
| Director | Michael Owen Morris |
| Writer | Colin Wyatt |