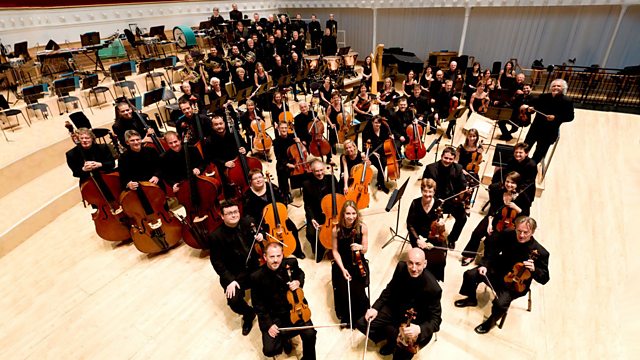 BBC SSO - Varese, Berio
The BBC Scottish Symphony Orchestra and Ilan Volkov perform 20th-century masterworks including Varèse's Amériques and Berio's Sinfonia recorded at the Edinburgh International Festival 2013.
Recorded at the Usher Hall, Edinburgh
Presented by Mary Ann Kennedy
A concert of bold musical worlds, created by a pair of visionary 20th-century composers. Two works by Edgard Varèse, the chamber-scale 'Intégrale' and the massive 'Amérique', create shocking and astringent sonic portraits of life in the first part of the 20th century: a futurist world of noise, modern architecture and new machines.
By contrast, the Italian modernist Luciano Berio's seminal 'Sinfonia' is a wide-ranging work, and a response to the cultural world of the 1960s. The BBC Scottish Symphony Orchestra and Ilan Volkov are joined by Synergy Vocals to perform this cornerstone of 20th Century music. Constructed around its famous central movement - a kaleidoscopic collage of musical quotations from throughout history - the piece encompasses texts from Martin Luther King, Claude Lévi-Strauss and Samuel Beckett, and music ranging from the delicate and austere, to the strident and terrifying.
Varèse: Intégrale
Varèse: Amériques
Berio: Sinfonia
Synergy Vocals
BBC Scottish Symphony Orchestra
Ilan Volkov (conductor).
Last on