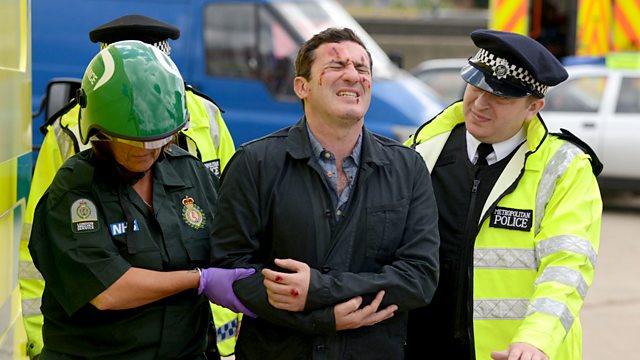 05/09/2013
Carl scrambles from the wrecked car while Phil lies unconscious. At Jack's party, Max is determined to forget about Carl. As the ambulance and fire engines arrive, Carl tells the police the car brakes went but insists they were fine earlier. Phil is lifted to safety by air ambulance. In the Vic, the party atmosphere's ruined when Billy announces the crash. The police question Carl about the brakes and where he parked his car. In the Vic, Abi and Lauren are shocked when Max refuses to call off the party. In hospital, Roxy, Lola and Billy watch on as Phil is wheeled out of surgery. In the Vic, Jack warns Max to tone things down, but won't pretend he's not happy if Carl is hurt. Ian frantically questions Dexter about Carl, then gets a phone call. Kirsty thinks Max is revelling in Carl being injured. DS Dunstable and DC Penrick arrive and arrest Max on suspicion of tampering with a motor vehicle.
Kat pressures Roxy to tell Alfie about Ronnie's release from prison. Ollie pays Kat a visit, pleading that he made a big mistake. Kat's shocked to learn of Jean's outburst that she and Alfie were meant to be. Ollie wants a chance to make things right with Jean. Kat meets Ollie and questions how he'll deal with Jean's phases. When Ollie can't guarantee that he won't let Jean down, Kat warns him to stay away.
Sam's queasy and thinks he needs to adjust his insulin. Sharon's convinced Ava is discriminating against Dennis and wants to move him to another school. Ava confides to Sam that Dennis is a bully.
Panicking, Jay and Dexter search for Lola and Abi. While Abi's waylaid fetching Jack's birthday cake, Jay pleads with Lola not to tell Abi about his kiss with Kitty.
When Sadie can't afford to employ Lauren at Beauty, Max arranges to secretly pay her wages.
Carol's discovered some fashion sketches of Bianca's and reveals she's found a course for her in Manchester. Although Carol insists Jack will pay and Kat and Max encourage her to go, Bianca resists.
Last on
Credits
| Role | Contributor |
| --- | --- |
| Max Branning | Jake Wood |
| Kirsty Branning | Kierston Wareing |
| Jack Branning | Scott Maslen |
| Carl White | Daniel Coonan |
| Phil Mitchell | Steve McFadden |
| Shirley Carter | Linda Henry |
| Billy Mitchell | Perry Fenwick |
| Lola Pearce | Danielle Harold |
| Jay Brown | Jamie Borthwick |
| Roxy Mitchell | Rita Simons |
| Alfie Moon | Shane Richie |
| Kat Moon | Jessie Wallace |
| Jean Slater | Gillian Wright |
| Bianca Butcher | Patsy Palmer |
| Carol Jackson | Lindsey Coulson |
| Ian Beale | Adam Woodyatt |
| Sharon Rickman | Letitia Dean |
| Ava Hartman | Clare Perkins |
| Sam James | Cornell S John |
| Dexter Hartman | Khali Best |
| Abi Branning | Lorna Fitzgerald |
| Sadie Young | Kate Magowan |
| Lauren Branning | Jacqueline Jossa |
| Ollie Walters | Tony O'Callaghan |
| DS Miles Dunstable | Gavin Kean |
| DC Brook Penrith | Julia Dalkin |
| Police Officer | Paul Bridle |
| Police Officer | Matt Emery |
| Executive Producer | Lorraine Newman |
| Director | Michael Owen Morris |
| Writer | Rob Gittins |